Libya's NTC set for Tripoli move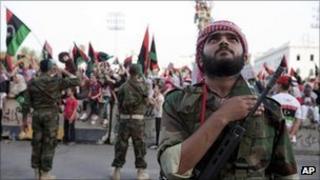 Libya's interim authorities are set to move to Tripoli from their stronghold of Benghazi, officials say.
Mustafa Abdul Jalil, leader of the National Transitional Council (NTC), told his supporters they would move within the next week.
The authorities have urged groups of anti-Gaddafi gunmen patrolling Tripoli to go home, as they try to restore normality in the capital.
In other parts of the country Gaddafi loyalists are continuing to fight.
They are still in control of Col Muammar Gaddafi's hometown of Sirte, and the smaller towns of Bani Walid and Sabha.
Anti-Gaddafi forces are slowly advancing on Sirte, after they gave loyalists there until 10 September to surrender.
Security worries
Troops loyal to the former regime were forced out of the capital last week in an assault co-ordinated with Nato airstrikes.
Since then, the NTC has courted international approval, and Western powers have agreed to free up billions of dollars of assets frozen during Col Gaddafi's rule.
On Friday, Mr Jalil returned to Benghazi after a meeting with world leaders in Paris.
"With God's will, we will go to Tripoli in the next week, but before we go we salute the people and revolutionaries of Benghazi," he told supporters who had gathered to welcome him back.
Interim interior minister Ahmed Darrad told AFP news agency that fighters still in the capital should now go home.
"Starting Saturday there will be a large number of security personnel and policemen who will go back to work. Now the revolutionaries of Tripoli are able to protect their own city," he said.
Many of the fighters are from regional towns and cities, and filled the power vacuum left when Gaddafi loyalists fled.
The BBC's Jon Leyne, in Benghazi, says the NTC now believes it has the money to operate in Tripoli, and that the city is safe enough to be their base.
New football kit
The NTC plans to install democracy in Libya during the next 20 months and has also said getting the economy back up and running is a priority.
Russia, which recognised the NTC as Libya's government on Thursday, said it would hold talks with the interim authorities over its energy projects in the country.
"[The NTC] suggested holding meetings. We invited representatives to Moscow on their request," said Foreign Minister Sergei Lavrov.
And China, which has not yet recognised the NTC, renewed its calls for pre-existing energy contracts to be honoured.
Meanwhile, Libya's national football team is preparing to play its first game since the fall of Col Gaddafi.
The team is reportedly going to play in a new kit bearing the colours of the revolution - red, black and green - rather than the all-green strip favoured by the previous regime.
The African Cup of Nations qualifier, against Mozambique, is being played in Egypt because of security concerns.
The six-month rebellion that toppled Col Gaddafi came after 42 years of authoritarian rule by the idiosyncratic former soldier, whose whereabouts are still unknown.
During that time he used the country's oil wealth to fund insurgents and terror groups around the world.
But relations with the West improved under UK Prime Minister Tony Blair and US President George W Bush.
Media reports on Saturday said documents had been found showing close ties between Col Gaddafi's intelligence services and their US and UK counterparts in recent years.
The CIA reportedly sent terror suspects to Libya for interrogation, while MI6 passed details of exiled Gaddafi opponents to Tripoli.
The documents, found by Human Rights Watch and reporters, include personal messages sent from MI6 and CIA chiefs to Col Gaddafi's former spy chief Moussa Koussa.
Mr Koussa defected early in the rebellion, flying to Britain and then to Qatar. Rights groups have accused him of involvement in atrocities.