Bulgaria demands Libya return 2007 pay-off over nurses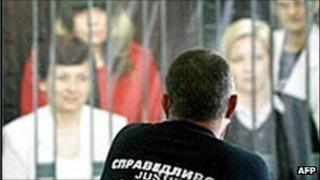 Bulgaria says it is seeking to recover $56.6m (£35m) of funds it donated to Libya in 2007 in a deal to secure the release of five Bulgarian nurses.
The five nurses had been sentenced to death for deliberately infecting more than 400 children with HIV.
Bulgaria added the Soviet-era debt it was owed by Libya to an international fund which secured their release.
But on Friday Prime Minister Boiko Borisov described the deal as "racketeering".
"I have raised the issue to review the agreement with Libya for the return of the medics, which to my view was racketeering," Mr Borisov was quoted as saying by the Bulgarian state news agency Focus.
"We saw the deal as a success at the time, because the nurses came home alive... but the price for Bulgaria was enormous," he said, shortly after returning from a meeting of the Libya's interim ruling National Transitional Council (NTC) and international backers in Paris.
The five nurses and a Palestinian-born doctor, who served eight years of the life sentences they received in Libya, always maintained they were innocent.
They were pardoned on arrival back in Bulgaria on 24 July 2007 by President Georgi Parvanov.
There were several factors in their release.
The Benghazi International Fund pooled funds from several different countries to provide $1m (£500,000) for each infected child as compensation.
The debt owed to Bulgaria was added to this fund.
Also critical was a deal struck for the normalisation of ties between Libya and the EU.
But Mr Borisov, whose conservative government came to power in 2009, has always depicted the debt cancellation as a racket, reports said.
Bulgaria recently announced it was resuming an investigation into the medics' claims that they were tortured by Libyan police into confessing their guilt, reported AFP news agency.
Medical experts say the HIV outbreak was probably caused by poor sanitation.