Nigeria's plastic bottle house
By Sam Olukoya
BBC Africa, Yelwa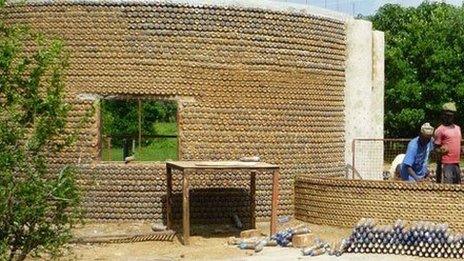 Nigeria's first house built from discarded plastic bottles is proving a tourist attraction in the village of Yelwa.
Hundreds of people - including government officials and traditional leaders - have been coming to see how the walls are built in the round architectural shape popular in northern Nigeria.
The bottles, packed with sand, are placed on their side, one on top of the other and bound together with mud.
"I wanted to see this building for myself as I was surprised to hear it was built from plastic bottles," said Nuhu Dangote, a trader who travelled from the state capital, Kaduna, to see the house.
"They were saying it in the market that it looks like magic, that you will be amazed when you see it, that is why I have come here to feed my eyes.
"The whole world should come and look at it."
The real beauty of the house is its outside wall as the round bottoms of the exposed bottles produce a lovely design.
But for those behind the project, its environmental benefits are what are most important.
Twenty-five houses, which will be available to rent, are being built on this estate on land donated by a Greek businessman and environmentalist.
Each house - with one bedroom, living room, bathroom, toilet and kitchen - uses an estimated 7,800 plastic bottles.
This "bottle brick" technology started nine years ago in India, South and Central America, providing a cost-effective, environmentally-friendly alternative to conventional building bricks.
Yahaya Ahmed of Nigeria's Development Association for Renewable Energies, estimates that a bottle house will cost one third of what a similar house made of concrete and bricks would cost.
"Compacted sand inside a bottle is nearly 20 times stronger than bricks," he says. "We are even intending to build a three-storey building."
The bottle houses are also ideally suited to the hot Nigerian climate because the sand insulates them from the sun's heat, helping to keep room temperatures low.
And because of the compact sand, they are bullet-proof - which may also prove another attraction in more insecure parts of the north.
A firm concrete foundation is laid to ensure that the structure is firm and stable - and the sand is sieved to make sure it is compact.
"You need to sieve it to remove the stones otherwise it will not be nice and it would not be able to pass through the mouth of the bottle," explains Dolly Ugorchi, who has been trained in bottle house building.
Some have expressed concern about the amount of sand needed for the new houses.
"My fear is that this building method will increase the demand for sand and even lead to an increase in the price of sand," says Mumuni Oladele, a mason in the southern city of Lagos
"At the moment people looking for sand to build houses dig everywhere to get the sand. You can imagine what will happen when the demand for sand goes up to build bottle houses."
According to market research company Zenith International, most water in Nigeria is sold in small plastic bags, but it says the bottled water market is growing - accounting for about 20-25% of official sales, the equivalent of up to 500m litres a year.
This means discarded plastic bottles are actually sought after in Nigeria where they are often used for storage or by street vendors to sell produce like peanuts.
The bottles for these houses are currently being sourced from hotels, restaurants, homes and foreign embassies.
The project is also hoping to help to remove children who do not go to school from their life on the streets.
"I don't want to be a beggar, I want to work and get paid - that is why I am doing this job," says 15-year-old Shehu Usman, who is working on the building site.
"When I grow old I want to build myself a house with bottles," he says.
After the 25 houses have been completed, the next construction project for the Development Association for Renewable Energies will be a school on the estate, which street children like Shehu will be able to attend.
Related Internet Links
The BBC is not responsible for the content of external sites.