South Kordofan: Sudan takes border clashes to UN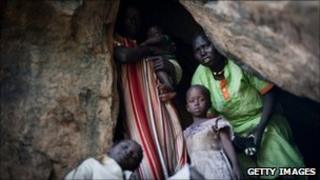 Sudan has lodged a complaint with the UN Security Council, accusing newly independent South Sudan of backing rebels in an oil-rich border region.
Earlier, human rights groups accused Sudan of bombing civilian areas of South Kordofan, despite declaring a ceasefire there last week.
The UN says some 200,000 people have fled the area, where Sudan has denied charges of ethnic cleansing.
Many ethnic Nubans fought with the south during the two-decade civil war.
After the independence of South Sudan, they found themselves led by the Khartoum government which they had spent years fighting.
The unrest began after the Sudanese authorities tried to disarm the fighters.
But human rights groups have accused Sudan of the indiscriminate bombing and shelling of civilian areas.
It is difficult to get accurate information from the area as journalists and diplomats are barred from the region and the UN faces restrictions on its movement.
South Kordofan is the only oil-producing region in Sudan, as some 75% of the unified country's oil came from what is now South Sudan.
'Getting away with murder'
Sudan's Foreign Minister Ali Ahmed Karti accused the South Sudanese government of being "hostile" towards its northern neighbour.
"We were the first to acknowledge an independent South Sudan and extended a hand of cooperation," the state-run Suna news agency quoted him as saying.
Mr Bashir's ceasefire announcement, made last week during an unannounced visit to the state's capital Kadugli, caught his own military - and the rebels they are fighting - by surprise, says the BBC's James Copnall.
However, researchers from both Human Rights Watch and Amnesty International say they saw Antonov planes dropping bombs in what they say appeared to be civilian areas.
They also accuse the Sudanese government of blocking aid deliveries to desperate displaced people.
"The Sudanese government is literally getting away with murder and trying to keep the outside world from finding out," said Amnesty's Donatella Rovera.
"The international community, and particularly the UN Security Council, must stop looking the other way and act to address the situation."
The Sudanese authorities say they are fighting a legitimate war against rebels, and any air raids are on military targets.
A UN report published this month warned that war crimes may have been committed in South Kordofan.
It said that atrocities had been committed on both sides, but the army's actions were "especially egregious" - referring to summary executions, aerial bombardments and the shelling of neighbourhoods.
When South Sudan split from the north on 9 July, the new country's leader, Salva Kiir, said he would work with Mr Bashir to ensure the rights of former southern rebels in the north were respected.