Libya: Col Gaddafi 'offers talks on power transfer'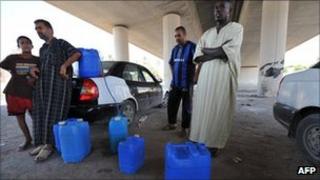 Fugitive Libyan leader Col Muammar Gaddafi is ready to begin talks to transfer power, his spokesman has said.
Moussa Ibrahim reportedly said the toppled leader's son Saadi would lead the talks. The rebels say they will not negotiate until he surrenders.
Meanwhile, desperately-needed fuel and water supplies are expected to arrive in the Libyan capital Tripoli later.
More than 50 charred bodies have been found in a burnt-out warehouse in the south of the capital.
Residents of the district of Salah al-Din said they were civilians who had been executed on Tuesday by members of a brigade commanded by Col Gaddafi's son, Khamis, before they abandoned a nearby military base.
Human Rights Watch says it has evidence that pro-Gaddafi forces killed at least 17 prisoners and carried out "suspected arbitrary executions of dozens of civilians, including professionals" in the days before Tripoli fell to the rebels.
On Friday, more than 200 decomposing bodies were found at an abandoned hospital in the capital's Abu Salim district. Doctors and nurses fled because of the fighting and many injured patients were left to die.
'Sea of blood'
The Associated Press news agency in New York reported that it had received a call from Col Gaddafi's spokesman Moussa Ibrahim, who said the former leader was still in Libya although he did not specify where.
Mr Ibrahim, whom AP says it identified by his voice, said Col Gaddafi was offering to negotiate with the rebels to form a transitional government.
Those negotations would be led by Col Gaddafi's son, Saadi, said Mr Ibrahim, who told AP he was still in Tripoli and had seen the former leader on Friday.
Early this week, CNN reported it had been in email contact with Saadi Gaddafi who confirmed his desire to negotiate a ceasefire.
"I will try to save my city Tripoli and 2 millions of people living there... otherwise Tripoli will be lost forever like Somalia," he wrote.
Without a cease-fire, Mr Gaddafi added, "Soon it will be a sea of blood."
An official in the rebel's National Transitional Council (NTC) told Reuters news agency that they did not know where Col Gaddafi was and no negotiations were taking place with him.
"If he wants to surrender, then we will negotiate and we will capture him," said Ali Tarhouni, the rebel official in charge of oil and financial matters.
UK Foreign Secretary William Hague described Colonel Gaddafi's offer as "delusional", saying the NTC is already in charge of the country.
"What is needed from the remnants of the Gaddafi regime is the fighting to stop," he told the BBC.
The focus has now moved to the urgent humanitarian situation in Tripoli.
The opposition says it will start distributing 30,000 tonnes of petrol on Sunday, and provide cooking gas within the next 48 hours.
A ship carrying fresh water and diesel for the power stations is due to dock in the next couple of days.
Symbolic victory
Meanwhile, rebels are advancing towards one of the last sizeable pockets of pro-Gaddafi support in Libya - the town of Sirte.
The BBC's Clive Myrie in nearby Ras Lanuf says the fighters are making good progress, having taken the town of Bin Jawad, around 100km (62 miles) away, on Saturday afternoon.
Rebel commanders say negotiations are being held with Sirte's elders to try and force a peaceful surrender of the town, but so far those talks have gone nowhere.
The town sits in the middle of the main east-west coastal highway that runs across Libya. Until the rebels can take control of it, they cannot bring the two halves of the country together under their control.
Sirte is also Col Gaddafi's birthplace, meaning its fall would also be a huge symbolic victory for the rebel leadership, our correspondent says.