Gaddafi's African 'mercenaries' leaving Libya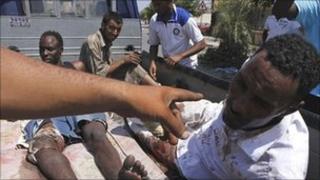 The United Nations has called on all sides in the Libyan conflict to prevent acts of revenge.
It follows reports both of killings by pro-Gaddafi forces and of attacks on African troops who fought on the government side.
African soldiers recruited by Libyan leader Col Muammar Gaddafi have begun streaming home.
A ship carrying some 260 migrant worker evacuees has now arrived in Benghazi from the capital Tripoli.
The International Organisation for Migration (IOM) says it is desperate to reach sub-Saharan migrant workers caught up in the fighting in Libya.
The head of the IOM in Benghazi, Martin Jerrett, said Africans were facing deep hostility in the capital, Tripoli.
He said most were in isolated houses and have no embassy representation. The IOM says there were over three million migrants working in Libya and there is little indication of how many will want to leave.
Crossing into Niger
Another vessel, capable of carrying 1,000 refugees, has joined the evacuation and another is being chartered.
Amid reports that some of the former pro-Gaddafi forces had been summarily executed, many have been crossing into Mali and Niger.
Some 60 vehicles are reported to have driven over the Libyan border into Niger, only to be impounded in the town of Agadez.
They have come home bearing what they could bring with them: a helicopter in parts is said to have been on board one truck.
Many were recruited from among the former Tuareg rebels, some 4,000 of whom were unemployed after a peace deal ended their rebellion in 2009.
A similar report was carried by the French magazine, Jeune Afrique, which said a column of 10 trucks crossed into Mali.
Last March, the BBC spoke to officials in Mali who said the Tuareg were being paid $10,000 to join the Libya government forces and a further $1,000 (£613) a day to fight.
Western sources suggest that up to 10,000 Africans were recruited from countries including Sudan, Chad, Mali and Niger.
Nato planes have been dropping leaflets calling on them to defect.
Radio messages have been broadcast, saying they will be treated according to the laws of war.
This was not the first time Colonel Gaddafi turned to the Tuareg for troops.
In the 1970s he created his Islamic Legion - a military force to fight for a united state across North Africa.