Libyan capital Tripoli faces water, power crisis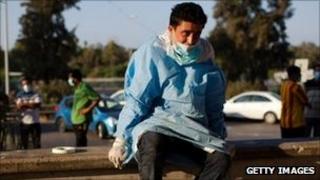 Living conditions in Tripoli are becoming increasingly desperate, with most of Libya's capital without water, electricity or proper sanitation.
Hospitals are running short of stocks, and food and fuel are difficult to come by, reporters say.
The National Transitional Council (NTC) said fuel to power electricity and water supplies will arrive on Sunday.
Spokesman Mahmoud Shammam said the council was doing its best to restore stability but to not expect "miracles".
"We're going to make this difficult period as short as we can," he told a news conference.
"Tripoli was under tight control of dictatorship for 42 years - we understand we lack a lot of institutions, so we're starting from almost zero point in this situation," he said.
Mr Shammam said officials will start to distribute 30,000 tonnes of petrol to the public on Saturday, and that diesel for electricity and water supplies will begin to arrive on Sunday. He said gas for cooking will become available within two days.
Asked about the fate of Col Muammar Gaddafi, Mr Shammam said the former leader would be caught.
"Gaddafi for us is finished... he's running from place to place - we're going to get Gaddafi, we are following him and we're going to find him but we're not going to stop everything waiting for the capture of Gaddafi or his sons."
Fighting in the capital has subsided, though clashes continue in the east.
Rebels say they are now in almost complete control of Tripoli, with just a few pockets of resistance from forces loyal to Col Gaddafi.
Nato said it had carried out several air strikes in the capital against Gaddafi forces overnight, targeting military facilities, vehicles and a surface-to-surface missile launcher.
There has been some fighting, mainly in and around the international airport, but the city centre is mostly quiet.
Elsewhere in the country the rebels have met stiff resistance near the oil port of Ras Lanuf as they prepare to attack Sirte, Col Gaddafi's birthplace and the town regarded as his last major stronghold.
Nato said it had again attacked pro-Gaddafi targets in the area ovenight.
Discarded corpses
Appealing for help on Friday, UN Secretary General Ban Ki-Moon said millions of people in and around Tripoli are at risk because of the water shortage.
The BBC's Daniel Sandford in Tripoli says the water supply to the capital has slowly dried up. He says some shops are open but they have not been re-supplied.
Petrol and diesel are running out and rubbish is piling up on streets uncollected, he adds.
Some hospitals are functioning well but horrific scenes were found at one in Abu Salim district on Friday, which had been abandoned by frightened staff amid heavy fighting.
The International Committee of the Red Cross (ICRC) found the rotting bodies of 200 patients there. The remains of men, women and children were found lying in corridors, on trolleys and even piled up at the hospital entrance.
The hospital was abandoned by doctors and nurses when the district erupted into violence. The BBC's Wyre Davies at the scene says many put the blame for what happened there on the Gaddafi regime, accusing his forces of taking revenge on anyone suspected of opposing him as he lost control of the capital.
Decomposing corpses are also littering the streets where fighting has taken place, the Associated Press news agency reports.
In one of the first signs of an international response to calls for help, the UK has announced it is sending surgical teams, medicine and food to Libya via the International Committee of the Red Cross.
The UK has been "very much engaged in ensuring that within Libya there is proper support, both for the hospitals that are doing important work there and for those caught up in the fighting", International Development Secretary Andrew Mitchell told the BBC.
Mr Mitchell said provisions for nearly three quarters of a million people will be sent via the ICRC.
Sirte deadlock
Outside of Tripoli, rebel forces are facing stiff resistance as they advance on Sirte, about 450km (300 miles) east of Tripoli.
Rebel commanders said they were consolidating their frontline at the oil port town of Ras Lanuf, after withdrawing from positions nearer Sirte to put themselves out of range of rockets fired by pro-Gaddafi forces.
Nato has launched multiple air strikes against the loyalists' armoured vehicles in the field and on what is described as a command and control bunker in Sirte.
Rebels are negotiating with tribal leaders to resolve the struggle for Sirte peacefully but this has not yet yielded results.
In the west, Libyan rebels have taken control of the Ras Jdir border post - the main crossing point between the country and Tunisia and a route for humanitarian supplies.
Meanwhile, the rebel commander in Tripoli, Abdel Hakim Belhaj, has announced that all disparate rebel groups will be brought under one command following an interim period, Reuters reports.
There has been concern expressed about the possibility of fragmentation of rebel forces following the toppling of Gaddafi.
The rebels' National Transitional Council has said half of its leaders have now made the move from the eastern city of Benghazi to Tripoli, where they are planning to form a government.