Algeria suicide bomb attack hits military academy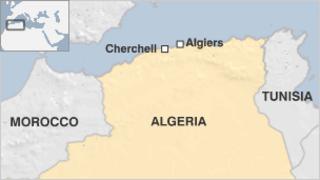 A suicide bomb attack on a military academy in Algeria has killed 18 people and wounded at least 20, officials say.
The attack took place in the town of Cherchell, about 100km (60 miles) west of the capital Algiers.
One or two bombers set off their explosives just after the breaking of the Ramadan fast, reports said.
Al-Qaeda in the Islamic Maghreb says it carried out the attack, AFP news agency reports. It came 12 days after a suicide car bomb hit a police station.
That attack, which wounded 29 people in Tizi Ouzu, was also claimed by the Islamist group, which is active in the region.
Sixteen trainee officers were killed in the Cherchell bombing, along with two civilians, officials said.
AFP quoted a Syrian diplomatic source as saying two Syrian army members were among the dead, while a Tunisian army officer was also reported killed.
Political violence has subsided since the 1990s when more than 150,000 were killed after the 1992 election, won by an Islamist party, was annulled.
But militant groups continue to carry out sporadic attacks.