'Tripoli witness' recounts life in hiding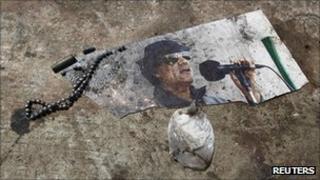 It is a refreshingly cool August night with a gentle breeze that - in my mind - is gently sweeping away the anxiety, frustration and fear that has reigned over this city in the last six months. Or dare we say over this country over the last 42 years?
The neighbour's wall has had a recent makeover, with the new flag - the pre-Gaddafi monarchy flag - painted on it, and a message stating that "Libya is Free".
Six nights ago, that would have been white-washed by the state and many a home would have been raided to track down "the rat" who did it.
I have been reporting for the BBC from Libya for seven long years, but have been "off air" for six, much slower, months.
As Facebook pages calling for a 17 February protest in Libya multiplied by the day, so too did the concern.
There were sleepless nights of fretting over how to report on a protest given the circumstances. Being one of just two foreign correspondents based here and being newly wed to a Libyan from Benghazi made for what seemed like a lethal combination - an arrest and "disappearance" waiting to happen. [Many families from the east and from Misrata were persecuted for regional affiliations.]
In the early hours of 15 February the mobile phone rang at about 02:40. "Private number" flashed on the screen and my heart seemed to jump to my throat. I knew it had started and London was calling.
Fear and isolation
Benghazi's residents phoned with minute-by-minute updates and by 07:00 I was broadcasting off-and-on, as and when the fear of the consequences of doing so consumed me and subsided. I was still the only one reporting the story from inside the country.
Two days on, it was nightfall again and the panic reached a pinnacle.
My husband reminded me we were not in Benghazi, and that in Tripoli someone would come calling. The exchange was riddled with a sense of fear, isolation and tears of helplessness and frustration on both sides.
"They have a death brigade that specialise in people like you, I can't help you, no one can!" he warned. "They will knock on our door and drag you out in front of me and execute you! You have no idea what they are capable of. What will I do?! Tell me!"
The next day my mobile number was blocked.
I stopped broadcasting, got a new number and waited. On 20 February our neighbour, a man from Gaddafi's hometown of Sirte who worked at the now wrecked Bab al-Aziziya compound, crossed paths with my husband in the building's stairway.
"So your people aren't going to keep quiet?" he asked, nonchalantly. We packed a small case of belongings and all my broadcasting equipment and left to stay at my in-laws' home.
That was the night Tripoli's unarmed residents staged their own massive, peaceful protests.
It was also the night that the sounds of heavy artillery and gunfire that met them ripped across the city.
Mental lifeline
I was broadcasting again for TV and radio as it happened - that is until Col Gaddafi's son appeared on state TV some two hours later as a re-invented character - a hardened, threatening figure who took everyone by surprise. Tripoli soon went quiet.
That was the last night I broadcast out of Tripoli - up until six days ago that is - due to a combined concern from senior editors in London and myself over safety.
When I was called to attend a news conference the day after the first of protests in Tripoli, I informed authorities here that I was taking a career break for personal reasons.
"Life in hiding" is an uncomfortable term to use because I was not physically chased by anyone; just by the demons of paranoia at the simple knowledge of what might happen.
It is perhaps an inevitable consequence of living in a dictatorship for many years.
There is no doubt in my mind that as a British-Lebanese foreigner, I would have - at best - been thrown out of the country if I had continued reporting on that fateful night and the days and months that followed.
That, and the possibility that my husband and his family would have been held responsible for my actions and could have been dealt with in unimaginable ways.
That is how "Tripoli witness" was born. A man - to quell any suspicion of identity - who could not be named. For three months, these entries served as a mental and physical lifeline.
But they had to come to an end.
As the months went by, gathering information became increasingly difficult. Many friends and sources fled the country - some after fears of imprisonment and torture grew for a variety of reasons.
What was life like for Tripoli Witness, backed with incredible moral support from editors in London, over the last six months?
Months 1-3:
Jumping out of bed at all hours of the night, every night, at the sound of any movement outside, and thinking: "This is it, they've come to get us, they've tracked me down knowing I'm Tripoli witness" - or worse: "They've come for my husband's family because they are from Benghazi and they'll raid the house and accuse them of being 'spies' when they find my broadcasting and communications equipment"
Baking a cake every three days when the stress felt too much to bear
Growing an unusual predilection to trashy romance novels found in a friend's book collection
Being told every Thursday night each week that Tripoli will rise again "this Friday" and our edgy existence would come to an end
Dreading phone calls from concerned family and friends abroad, mainly due to paranoia that they would say something offensive to the regime and because there was little I could say except, "everything is great, we're fine, Tripoli is peaceful and everything is 'normal'". (All phones were tapped and people were being detained on the basis of the recordings.)
Months 3-6:
Same as above though some practices dwindled due to supplies
Being ever so grateful that two girlfriends remained, and that I saw them once a week in a sleepover involving a cook-off, DVDs and endless conversations about our lives and the country in candlelight and under a starry night sky
Misguidedly taking up knitting for several weeks before realising it would never be a career option or even a hobby
Having frequent disturbing dreams that often included Col Gaddafi and people being executed
Questioning whether it was "time to leave" this miserable existence because it might drag on for years
Deactivating Facebook account due to concerns it would be hacked
Experiencing sheer elation upon finding the best hiding place for all the broadcasting equipment
Above all, an increasing fear of my own thoughts that could not be hidden, and gradually wondering if this was the beginning of a mental breakdown. It was not.
Rana Jawad's Tripoli witness pieces are listed below: