Five facts about blade runner Oscar Pistorius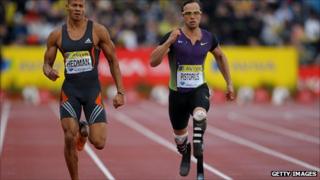 This weekend, Oscar Pistorius will become the first amputee athlete to compete at the able-bodied World Championships. The 24-year-old from South Africa, who runs on carbon fibre blades, will race in the 400m and 4x400m relay in Daegu, South Korea.
1. His parents were told he would never walk.
Oscar Pistorius was born with a birth defect that left doctors doubting he would ever be able to walk. His legs were bent, and some bones were missing. For the first few months his legs were put in plaster, which succeeded in straightening them. Then, at 11 months, his legs were amputated at the knee.
"There was a lot of conferring with doctors. His parents took him from doctor to doctor and got lots of different advice," says his aunt, Diana Binge. "They decided to take the most conservative advice they were given - to leave him with as much leg as possible and as many options as possible."
Had they agreed to amputate more of Oscar's legs, as some doctors advised, there would have been no question of a running career.
He quickly became very mobile. "He first learnt to walk on his prosthetic legs," says Ms Binge. "They didn't have actual feet like now, they were sort of little peg legs. He just walked on them - like his brother put his shoes on, he put his legs on."
2. He was always into speed and excitement.
"He used to roller skate, ride bicycles, climb trees. He ran everywhere - and he ran like the wind," says Ms Binge.
As a toddler he hurtled down the drive on a moulded plastic motorbike, pushing himself along with his prosthetic legs, and dragging them behind him. The legs would crack and the feet would get worn out.
"He was a battered and bruised child, always hurting himself. He has no perception of danger, which may be one reason why he has been so successful," his aunt says.
"He once jumped into the swimming pool with his prosthetics on, causing his mother to leap into the swimming pool - because he sank to the bottom, his prosthetics acted almost like cement boots.
"He's just a tearaway."
3. His blades are both an advantage and a disadvantage.
The advantage comes in the later stages of the race, according to Dr Wolfgang Potthast and his team from the German Sport University in Cologne.
"The way of sprinting with two prostheses is entirely different from a mechanical point of view than running with natural legs... In a certain part of the race, when he has high velocity, I feel, and we have data on that, that he has a mechanical advantage," Prof Potthast told the BBC World Service.
The disadvantage comes at the beginning of the race and on corners.
"In the 400m race, the athletes push out of the blocks with their calf muscles. Oscar doesn't have calfs, so he has to use his hips," says Professor Bob Gailey, who studies the biomechanics of prosthetics at the University of Miami. "The curve on the track is also harder for Oscar - he needs to maintain balance, and the prosthetics aren't as flexible on bends as a human leg. He only properly gets into his running rhythm on the straights."
It is unclear whether, overall, he is at an advantage or a disadvantage. In 2008, he was barred from competing in able-bodied competitions, partly due to test data provided by Prof Potthast. This ruling was overturned on appeal.
4. Oscar cannot upgrade his blades.
Oscar Pistorius is only allowed to compete on the carbon fibre blades that he was tested on before, says Bob Gailey.
"If we go back to the community of arbitration's rule, he is only able to compete in the same Cheetah blades that he was tested on in Cologne. If there are technological advances, he would have to petition to change those."
Bob Gailey says this is consistent with other technical developments in sport.
"We see this in the Olympics, any time any type of new footwear or clothing proves to have a potential advantage it has to be assessed. So I think the same thing has to happen with prosthetic feet as well."
Oscar only uses the blades for running. "You cannot stand still in a blade, because you have no heel," says his aunt, Diana Binge. "It's like standing on the balls of your feet - you can only do it for so long."
5. Oscar Pistorius is the "ambassador" of an aftershave.
"I was looking for a new icon, a real man to incarnate A*men," says Joel Palix, president of Clarins' Fragrance Group.
"But I was a bit tired of all the famous sportsmen and actors, I felt it was a bit stereotyped. One day I found an article speaking about Oscar and I thought his story was incredible. I am a strong advocate of diversity, I think in today's world every category of person should be in advertising, and be able to be the spokesperson for a product."
Mr Palix says he was also charmed by Oscar Pistorius' personality and impressed by his "incredible career in sports".
However, he concedes that he probably would not have chosen Oscar Pistorius if he was less physically attractive.
"After all we sell fragrance that is also a dream of buying a brand - it's only normal that we project the image of a person that is appealing."
Research by Mark Bosworth