William Ruto, accused by ICC, sacked as Kenyan minister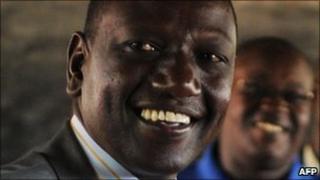 Kenya's Higher Education Minister William Ruto, accused by the ICC of leading the 2007-8 post election violence, has been sacked.
He is one of six top officials accused of links to the violence in which some 1,300 people were killed.
He was already suspended after being accused of corruption, although he was acquitted in April.
He had also fallen out with Prime Minister Raila Odinga after the pair had been allies in the 2007 poll.
Mr Ruto is deputy leader of Mr Odinga's Orange Democratic Movement but has declared his intention to stand in the 2012 presidential elections.
Mr Odinga is also expected to contest the poll.
He says he was cheated of victory by President Mwai Kibaki and his supporters in 2007, speaking nationwide cashes.
The violence ended after Mr Kibaki and Mr Odinga agreed to share power.
Some of the worst clashes were seen in the Rift Valley, where Mr Ruto has his constituency.
He denies any links to the violence.