South Kordofan ceasefire declared by Sudan's Bashir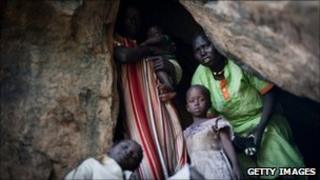 Sudan's president has announced a two-week ceasefire in South Kordofan state where fighting since June has displaced some 200,000 people from their homes.
"I declare a unilateral two-week ceasefire," AFP quotes Omar al-Bashir as saying on state radio.
The conflict began when the authorities tried to disarm ethnic Nuban fighters after elections in the state that borders newly independent South Sudan.
Khartoum denies accusations of ethnic cleansing against pro-southern Nubans.
A spokesman for the Sudanese armed forces said fighting had reduced in South Kordofan this month because of the Muslim holy month of Ramadan.
The BBC's James Copnall in the capital, Khartoum, says it has been extremely difficult to get accurate information about what is going on in South Kordofan, as journalists and diplomats are barred from the region and the UN faces restrictions on its movement.
'Bombing and shelling'
Mr Bashir's ceasefire announcement, made during an unannounced visit to the state's capital Kadugli, caught his own military - and the rebels they are fighting - by surprise, our correspondent says.
A senior rebel told the BBC he was in favour of a temporary cessation of hostilities, to deal with humanitarian issues, but he would not accept a ceasefire, as the underlying political issues were still unresolved
Mr Bashir also said that foreign organisations would not be allowed into South Kordofan and that any aid would be delivered only through the Sudanese Red Crescent organisation, Reuters news agency reports.
A UN report published this month warned that war crimes may have been committed in South Kordofan.
It said that atrocities had been committed on both sides, but the army's actions were "especially egregious" - referring to summary executions, aerial bombardments and the shelling of neighbourhoods.
Many people in South Kordofan, especially residents of the Nuba mountains, fought with southern rebels during the two decade north-south war but now find themselves in the north.
When South Sudan split from the north on 9 July, the new country's leader, Salva Kiir, said he would work with Mr Bashir to ensure the rights of former southern rebels in the north were respected.