Libya unrest: Evacuation of Tripoli migrants planned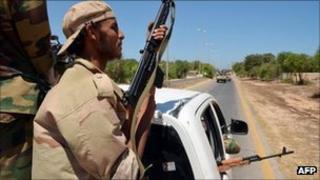 The International Organisation for Migration (IOM) says it is organising an evacuation of thousands of foreign workers from Libya's capital, Tripoli.
An IOM spokeswoman said thousands of people wanted to leave as fighting approaches the city.
Rebels have said that at least 30 fighters have died and 120 have been injured as they attempt to take control of Zlitan, east of the capital.
They have sought to take control of the strategic coastal town since August.
"Battles began in the early hours of today and the rebels have liberated most of Zlitan," rebel spokesman Gemal Salem told Reuters.
Major obstacle
It is not possible for the BBC to independently verify these claims however government troops have been fighting rebels in the area for months.
The town, some 93 miles (150km) east of the capital, represents a major obstacle in the path from the nearby city of Misrata to Tripoli.
Meanwhile, there have also been clashes to the west, south and east of Tripoli as rebels push back government forces.
Nato, enforcing a UN-mandated no-fly zone to protect civilians since March, controls sea access to Tripoli.
An IOM spokeswoman said an operation to rescue stranded foreign workers - many of them Egyptians - would begin in the coming days.
"We have a very limited window of opportunity to carry out this operation because of the fighting," said Jemini Pandya.
"We are looking at all options available, but it will probably have to be by sea," she added during a news conference in Geneva.
Such a move would almost certainly require the co-operation of all sides in the fighting to ensure evacuees made it safely onto boats, says the BBC's Geneva correspondent, Imogen Foulkes.
Land route closed
Since the conflict in Libya began in February, an estimated 600,000 migrant workers have fled the country, many with the help of the IOM, says our correspondent.
But many foreign workers still remain in Tripoli.
The last land escape route - the road west from Tripoli to Tunisia - has now been closed by fighting after rebel forces moved into the town of Zawiya, just 50km (30 miles) from the capital.
On Thursday, rebel forces captured an oil refinery outside the town.
Although much of the fuel used by the Libyan army is smuggled across the border from Tunisia and Algeria, the refinery provides supplies for the capital, Tripoli, the BBC's Matthew Price reports from Tripoli.
Rebel forces have also recently advanced to the south of Tripoli, capturing the town of Gharyan.
Libya's conflict broke out in February, inspired by uprisings in Tunisia and Egypt which toppled the presidents of those countries.
Rebels quickly consolidated gains in the east of the country, but until recently Col Gaddafi's forces held much of the west.