Ivory Coast toxic waste payments 'not delivered'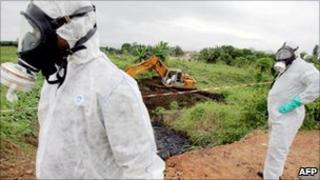 Ivory Coast must ensure those alleged to have been injured by a shipment of toxic waste receive payments from multinational Trafigura, Amnesty says.
In 2006, the shipping firm transported waste alleged to have been involved in the injury of thousands in Abidjan.
Trafigura denied any wrongdoing but has made a series of payments to the government without admitting liability.
The campaign group says the multinational has transferred a total of $260m (£157m) to the Ivory Coast.
But it says many of these payments have not been accounted for and those who claim to have been victims of the waste have yet to receive money.
Dumped waste
The Ivory Coast government has not immediately responded to the organisation's claims.
In 2007, Trafigura paid $160m (£104m) to the government of Ivory Coast and then also paid $50m (£32m) in an out-of-court settlement to individuals in Ivory Coast who said they had been injured when the waste was spread on dumps around Abidjan.
Subsequent additional payments were made later.
Benedetta Lacey, of Amnesty International, said the delays were unacceptable, adding that more than 6,000 people were owed the equivalent of a year's wages.
"These pay-outs have been dogged by repeated delays and a lack of transparency.
"President [Alassane] Ouattara's government must act decisively to show that corruption and misappropriation of funds will not be tolerated."
In July 2010, a Dutch court found the oil trading company guilty of illegally exporting toxic waste from Amsterdam and concealing the nature of the cargo.
The firm was fined 1m euros (£836,900) after its ship, the Probo Koala, transited Amsterdam with its cargo which then went on to be unloaded in Ivory Coast.
The exact risk to humans from the waste has been heavily disputed.