Libya conflict: Rebels fight for Zawiya oil refinery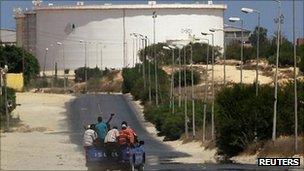 Libyan forces loyal to Col Muammar Gaddafi are fighting rebels for control of a coastal oil refinery in Zawiya, just 50km (30 miles) west of Tripoli.
Heavy gunfire was reported near the refinery complex, which supplies oil and gas to the Libyan capital.
Despite their recent gains, rebels face continued fire from rockets and snipers in a sixth day of fighting for Zawiya.
Control of the key town is seen as important because it straddles a major road linking Tripoli to Tunisia.
If opposition forces could maintain control of Zawiya, they would have Tripoli surrounded by land, with Nato - which has been enforcing a UN-mandated no-fly zone to protect civilians since March - blocking sea access.
While the streets of Zawiya are now festooned with the red, black and green flag used by the rebels, earlier on Wednesday the green flags of Col Gaddafi's loyalists were still fluttering from a refinery building, Reuters reported.
"There are some snipers inside the refinery facility. We control the gates of the refinery," rebel fighter Abdulkarim Kashaba told the agency in a telephone interview.
He said the rebels were set to launch an assault on the refinery and heavy gunfire could be heard after rebels in cars loaded with large-calibre ammunition sped towards the refinery.
US Defence Secretary Leon Panetta said on Tuesday that Col Gaddafi's "days are numbered", with anti-Gaddafi forces making advances in the east of the country, and closing in on Tripoli from the west.
His upbeat tone suggested to some observers that the six-month conflict is nearing its final stages, and the rebels believe they will win this war by the end of August, says the BBC's Matthew Price in Tripoli.
A Nato assessment this week said its enforcement of the UN-mandated no-fly zone to protect civilians had rendered pro-Gaddafi troops incapable of launching "coherent operations", but the alliance insists its mission is "far from over".
The rebels have always maintained that if they can reach Tripoli, then opposition supporters across the city would rise up and help defeat Col Gaddafi, but the BBC's Matthew Price says it does not feel that clear-cut in the capital.
Libyan state television has called on the Libyan people to rise up against "traitors, agents and rats", with the government insisting that its forces will retake the areas they have lost in recent days.
A government intelligence official captured by the rebels estimates that 70% of the capital's population back Col Gaddafi, adds our correspondent.
Rebels have denied that their Benghazi-based National Transitional Council (NTC) - recognised as Libya's legitimate government by many nations - has held peace talks with representatives of Col Gaddafi.
But the BBC understands that talks involving two members of the opposition and two government ministers had taken place in Tunisia.
Venezuelan officials mediated between the two sides at the talks in Djerba, which started over the weekend and finished on Tuesday, sources say.
On Tuesday, a UN special envoy, Jordan's former Foreign Minister Abdul-Ilah al-Khatib, said he had met the two sides separately and informally in Tunisia.