Tunisian police fire tear gas at protesters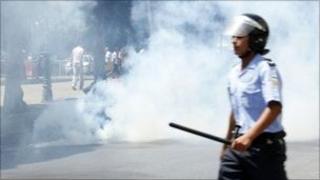 Police used tear gas and truncheons to break up a protest in Tunisia - the country that provided the template for the Arab Spring.
Eyewitnesses said the protesters in the capital Tunis were blocked as they tried to hold a rally at the same time as an authorised march.
The protesters had been complaining about the lack of reform since the overthrow of President Zine al-Abidine Ben Ali in January.
Fresh elections are due in October.
'New revolution'
Police said 2,000 people took part in the authorised demonstration, which had been called by the General Workers' Union (UGTT), which continued outside the city centre.
Eyewitnesses said that the hundreds who had tried to hold the unauthorised rally near the interior ministry headquarters had been shouting for a "new revolution" and denounced Tunisia's interim government.
The national anthem had been sung at both rallies.
Under Mr Ben Ali's 23-year rule, one party which is now officially dissolved had controlled the country and opposition parties in parliament were largely symbolic.
Since his overthrow about 80 new parties have been officially registered for elections which are due in October.
Tunisia's protests sparked revolts across the Middle East - a movement that became known as the Arab Spring.