Maiduguri unrest: Nigeria police 'thwart suicide blast'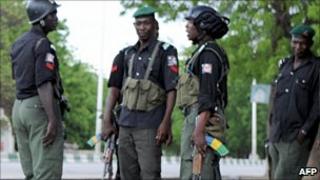 Nigerian police say they killed a man who tried to carry out a car bomb attack on the police headquarters of a violence-torn north-east city.
The man was shot dead as he drove the explosives-laden car into the police compound in Maiduguri, police said.
Police spokesmen said several containers of both gunpowder and petrol were found in the car.
Maiduguri has been in the grip of fighting between soldiers and the radical Islamist sect Boko Haram.
Thousands of people have fled the area in recent weeks as fighting around the city has intensified.
The group, whose name roughly translates as "Western education is forbidden", is fighting to topple the government and create an Islamic state.
Army excesses
"Our men succeeded in killing a would-be suicide bomber who attempted to force his way into the police headquarters," state police commissioner Simeon Midenda said.
He said the incident happened during the screening of potential police recruits and 1,500 hopefuls were in the grounds at the time.
"Our initial suspicion is the attacker is from the Boko Haram sect," he was quoted by the AFP news agency as saying.
Two years ago, Nigeria's security forces brutally suppressed an uprising by the sect, destroying its compound in Maiduguri - the capital of Borno state - and then capturing and killing its leader Mohammed Yusuf.
Instead of disappearing, the group re-emerged last September and vowed to avenge its leader's death.
The BBC's Bilkisu Babangida in Maiduguri says it is the first time the police headquarters in Maiduguri has been targeted by a car bomber.
Last month, motorbikes were banned in of Maiduguri to prevent drive-by assassinations of security officers and politicians by sect members.
In June, Boko Haram said it had carried out an attack on the headquarters of the Nigerian police in Abuja, which killed at least six people.
In response, the security forces launched another crackdown on the group and fighting has intensified in recent weeks.
But correspondents say many people in Maiduguri and elsewhere in the state of Borno say they do not know whether to be more scared of Boko Haram or the security forces.
The governor of Borno recently admitted that the army has been guilty of excesses during operations to counter Boko Haram.
A committee is due to report back to Nigeria's president on the security situation in Borno state and the prospects for opening negotiations with Boko Haram.