Somalia: Rights group says all sides guilty of crime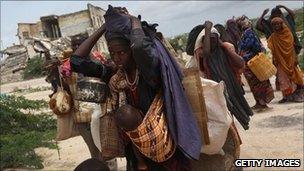 Human Rights Watch has said all sides in Somalia's conflict are guilty of serious breaches of international law.
The campaign group says civilians are bearing the brunt not just of a famine but also a failure by any side to protect them.
It says Islamist group al-Shabab is guilty of unrelenting brutality, while government troops carry out arbitrary arrests and detentions.
HRW also criticises the West for not exerting pressure to stop the abuses.
A spokesman for the Transitional Federal Government (TFG) denied the accusations, and said the body was committed to human rights.
The report's author, Ben Rawlence, told the BBC that al-Shabab carries out unrelenting daily repression and brutality in areas under its control, taxing the population for access to water, forcefully recruiting men so they cannot grow crops and restricting access to aid agencies.
"Al-Shabab must carry the burden of that responsibility for the way in which the demands of the fighting has led to human rights violations which have contributed to famine," he said.
Mr Rawlence said al-Shabab often fired from within populated areas towards TFG troops and UN peacekeepers, who responded "without paying too much attention to who is there".
The report also accuses the TFG of carrying out arbitrary arrests and detentions, and says those who flee the country face more problems, enduring rape and extortion, allegedly by the Kenyan police.
Mr Rawlence said support for the TFG had to come with pressure for it to respect human rights and improve accountability of its security forces and government.
But Abdi Rashid Aseed, a spokesman for TFG, said the information used for the report was inaccurate and denied the accusations in it.
"When you are restoring law and order certain things are going to happen; collateral damage happens not only in Somalia but in all parts of the world where there is trouble and wars," he told the BBC.
"This Transitional Government is committed to human rights. We are happy to listen but criticism has to be constructive."
Somalia has been without an effective government for 20 years - much of southern and central Somalia is controlled by al-Shabab, which has links to al-Qaeda and has imposed strict Sharia law.
Some 1.4 million people have been displaced within the country and hundreds of thousands have fled to neighbouring countries to escape fighting and food shortages. The World Health Organisation estimates that 2.8m people are in need of food aid.
Related Internet Links
The BBC is not responsible for the content of external sites.