Libya conflict: Rebels fight for key towns near Tripoli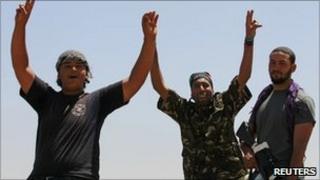 Libyan rebel fighters have advanced into two strategically important towns controlling access to the capital, Tripoli, from the west and the south.
Fighting was reported in both Zawiya, 50km (30 miles) west of Tripoli, and Gharyan, 80km (50 miles) to the south.
If the towns fall to the rebels they would have Tripoli surrounded by land, with Nato blocking sea access.
Meanwhile, reports say representatives of Col Muammar Gaddafi and the rebels have been holding talks in Tunisia.
The UN special envoy, Abdul Ilah al-Khatib, whose role is to negotiate a ceasefire, has arrived in Tunis. The AFP news agency said he had revealed that negotiations would take place in a hotel there.
However, a UN spokesman would only confirm that Mr Khatib would meet Tunisian officials and "some Libyan personalities residing in Tunisia".
Earlier, sources in the Tunisian security services said the two sides had met at a hotel on the Mediterranean resort island of Djerba on Sunday.
The BBC's Matthew Price in Tripoli says opposition activists are reporting on social networking sites that the meetings in Tunisia are focusing on how to get Col Gaddafi out of Libya.
However, his government has dismissed the suggestions out of hand, along with a report that two South African planes had landed at Tripoli airport to take the leader into exile, our correspondent adds.
In another development, Egyptian airport officials said Libyan Interior Minister Nasser al-Mabruk, who is understood to have been close to Col Gaddafi, had flown to Cairo on a private jet with nine family members.
It is not clear if he has defected. He told officials he was on holiday.
"We had no idea of his arrival, but he was in Tunisia on Sunday," a Libyan embassy official in Cairo told the Associated Press.
Supply lines
Mr Mabruk's arrival in the Egyptian capital came after a weekend of advances by Libyan rebel forces towards Tripoli.
On Monday, rebel field commander Abdul Hamid Ismail told the AFP news agency that "most" of Zawiya was now under their control.
However, there were also reports of heavy fighting, particularly along the coastal road to Tripoli. Residents said they believed Col Gaddafi's forces had launched a bombardment to try to retake the town.
Medics outside the town told the Reuters news agency that sniper and mortar fire from government troops had left three civilians dead.
Col Gaddafi's forces are still thought to control the Zawiya oil refinery - the only one in western Libya - where they get most of their fuel.
Earlier, the rebels said they had also seized Gharyan - a town in the Nafusa Mountains that straddles the road connecting Tripoli with Sabha, Sorman - west along the road from Zawiya to Tunisia - and Tiji, although this has not been confirmed by residents.
"Gharyan is fully in the hands of the revolutionaries. They crushed the Sahban Brigade, the main command centre for Gaddafi in the western mountains. They took the brigade's heavy and light weapons," a rebel spokesman, Abdulrahman, told Reuters.
"Gaddafi has been isolated. He has been cut off from the outside world."
How much territory the rebels hold and for how long they can hold it is unclear, our correspondent says.
The Libyan government is not denying that it has lost territory and some strategic towns in the last few days, but it says its forces are on the verge of taking them back, he adds.
UK Prime Minister David Cameron welcomed the rebels' progress, saying: "We have been saying for some time that we think the Nato operation is proving successful in eroding Gaddafi's ability to wage war against his own people.
"We are going to continue to apply that pressure and we will be patient and persistent in doing so until Gaddafi stops brutalising his people."
Col Gaddafi meanwhile told his supporters in an audio statement: "Move forward, challenge, pick up your weapons, go to the fight for liberating Libya inch by inch from the traitors and from Nato."
"Get ready for the fight," he added. "The blood of martyrs is fuel for the battlefield."
Our correspondent says the government's forces can be expected to fight tooth-and-nail for Zawiya's refinery and the coastal road, the loss of which could prove a decisive moment in the conflict.
The city was briefly held by rebel forces early in the uprising against Col Gaddafi this year, but they were driven out by tanks and suffered heavy casualties.
Last week, hundreds of rebels pushed out of the Nafusa Mountains in the west, down towards the towns of the coastal plain in an offensive aimed at ending months of deadlock.
Military success in the west is crucial to the rebels, who have struggled to make advances from their stronghold around Benghazi in the east.