Tunisia ex-security chief acquitted over Ben Ali escape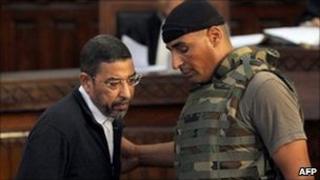 Tunisia's former security chief Ali Seriati has been acquitted of forging passports for ousted President Zine al-Abidine Ben Ali and his family.
Mr Seriati was accused of helping Ben Ali flee to Saudi Arabia after he was toppled in January.
The court convicted 23 of his co-accused - all relatives of Ben Ali - of illegally possessing foreign currency and attempting to flee Tunisia.
Mr Seriati remains in custody and faces other charges related to the uprising.
'Forgive me'
Mr Seriati, who was the head of Ben Ali's feared presidential guard, was arrested in the immediate aftermath of the revolution.
Earlier this week he made an emotional appeal in court.
"I ask the Tunisian people to forgive me. I am Tunisian and I love Tunisia," Reuters news agency quotes him as saying.
But Tunisian journalist Mourad Teyeb told the BBC's Focus on Africa programme that many people are angry that Mr Seriati has been acquitted because he is seen as a "symbol of Ben Ali's terror".
He is due to be tried in the next few days on charges of plotting against the state and provoking disorder - crimes that carry the death sentence.
Last month, a court in Tunis gave Ben Ali, his daughter and son-in-law jail terms in absentia over corrupt property deals.
It was the third guilty verdict against Ben Ali.
In earlier trials, he was convicted of possessing illegal drugs and weapons and of embezzling and misusing state funds.
Saudi Arabia has so far refused to extradite him.
Ben Ali ruled Tunisia for more than 20 years, before being deposed in a popular uprising that spread across North Africa and the Middle East.