Nigeria to probe 'army abuses' in Boko Haram crackdown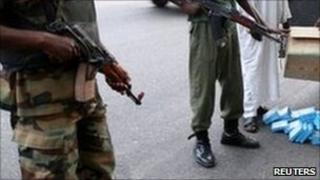 Nigeria's army has been told to investigate alleged abuses of civilians by soldiers fighting a radical Islamist sect in the north-east of the country.
Defence Minister Bello Mohammed's move came after a woman was shot dead on Wednesday in clashes between soldiers and suspected members of Boko Haram.
Rights groups have accused the army of carrying out other unlawful killings.
Fighting around Maiduguri has intensified in recent weeks, causing thousands of people to flee the area.
'Bad eggs'
Mr Mohammed said the army was "doing a very good job" in protecting the lives and property of Nigerians in Maiduguri and throughout Borno state.
"However, a few bad eggs amongst them sometimes overreact to situations and create discontent amongst the civilian population thereby dragging the name of the military to disrepute," he said in a statement.
He has asked to army to "investigate all incidents of military misconduct against law abiding citizens".
Amnesty International has said soldiers in the Joint Task Force (JTF) sent to Borno have been responsible for at last 23 deaths and for burning a market.
Riots broke out on Wednesday after the killing of the woman in the northern town of Biu in Born state and a church was set on fire.
According to newspaper reports she was holding her young child at the time.
Mr Mohammed has ordered the military to thoroughly investigate the incident.
Boko Haram - which roughly translates as "Western education is forbidden" - has carried out a wave of killings and bombings in Nigeria in their attempt to overthrow the government and create an Islamic state.
In the last few months the military presence in Nigeria's north-east has been steadily increased as the government tries to force an end to the Islamist group Boko Haram's armed uprising, the BBC's Jonah Fisher reports from Lagos.
But the army's conduct has alienated the local community, he says.
Many residents of Maiduguri are now more scared of the army than they are of Boko Haram.
A month ago a group of elders called on the soldiers to pull out.
Last month, Borno state Governor Kashim Shettima admitted that the army had been guilty of excesses in Maiduguri.
Next week a committee is due to report back to Nigeria's president on the security situation in Borno state and the prospects for opening negotiations with Boko Haram.