'Piracy soars' off coast of Benin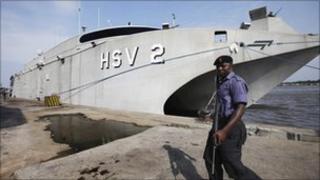 Piracy has become more common off the coast of West Africa the International Maritime Bureau has said.
The head of the bureau, Capt Pottengal Mukundan, said there were 15 attacks off the coast of Benin in the first half of the year.
He said pirates often sailed hijacked tankers to an area where another tanker waited to collect its siphoned fuel.
The mode of attack, he said, was similar to that used by pirates operating off the coast of Nigeria.
"The vessels are taken over by the armed pirates and then forced to sail to an unknown destination, where the cargo is discharged into a smaller tanker," Capt Mukundan told the BBC.
"And then the vessel is brought back and released. In some case, two or three crew members have been kidnapped and are taken ashore and are held until a ransom is paid."
Escalation
He said the crew, although often roughed up, was usually freed, rather than being ransomed.
Piracy is more prevalent off Somalia in East Africa where the crews of hijacked vessels are often ransomed. According to the bureau, there were 163 attacks by Somali pirates in the first half of 2011, up from 100 in the first six months of 2010.
They hijacked 21 in the first half of 2011 compared with 27 in the same period last year. Off the coast of Benin, only five of the 15 attacks in the same period were successful.
The US and other Western nations have an anti-piracy armada patrolling the waters off East Africa, but there is no West African counterpart, leaving Nigeria and its neighbours to stop the growing swell of attacks on their own.
On Thursday, Benin's president, Boni Yayi met with his Nigerian counterpart Goodluck Jonathan.
Mr Yayi warned that pirates were threatening the security of his country's ports and urged Nigeria to lead concerted action to stop the spread.
According to the Denmark-based security firm Risk Intelligence, piracy in the Gulf of Guinea has, over the last eight months, escalated from low-level armed robberies to hijackings, cargo thefts and large-scale robberies, AP reports.
Less than three weeks ago, pirates seized an Italian tanker carrying fuel and a crew of 23 off Benin in the Gulf of Guinea. It was later released.