Uganda anger at opposition's 'Twitter 'insurrection'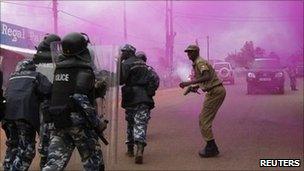 Uganda's Security Minister Wilson Muruli Mukasa has accused the opposition of using social media in a "grand plan" to topple the government.
His comments came as opposition parties vowed to relaunch mass protests against the rising cost of living.
Mr Mukasa said social networking sites Facebook and Twitter were being used to prepare youths for insurrection.
During protests in April, the government ordered internet service providers to block their use.
The directive was largely ignored with only two service providers implementing it, the BBC's Joshua Mmali in the capital, Kampala says.
Addressing a press conference in the city on Thursday, Mr Mukasa said the opposition was inciting the public to rise against the government.
"They have adopted many tactics, including hoodwinking people to believe the agitation is in the public interest and the government is insensitive to public concerns," Mr Mukasa said.
He said the opposition was using Twitter, Facebook and YouTube to wage a propaganda campaign against the security forces and to "psychologically prepare the people, especially young people, for armed insurrection".
A spokesman for the main opposition party the Forum for Democratic Change (FDC), Wafula Ogutu, denied the allegations.
He said the FDC was simply highlighting bad governance through its campaigns.
"If the consequences are that the government will be toppled, so be it. But that is not our aim," Mr Ogutu told the BBC's Focus on Africa programme.
He said the government would fail in its efforts to censor social media.
"There is nothing it can do. People will use social media," Mr Ogutu said.
On Wednesday, police fired teargas at a rally addressed by FDC leader Kizza Besigye in the town of Masaka in south-west Uganda.
Mr Besigye said he would resume "walk-to-work" protests to highlight the rising cost of living in Uganda.
His decision came after a court dropped all charges against him in connection with the protests he led earlier in the year.
The government accused Mr Besigye of trying to organise an Egypt-style uprising and seeking to gain power through the streets after losing elections in February.
The court acquitted him of disobeying lawful orders, rioting and inciting violence.
At least nine people were killed in the government's clamp down on the protests.
Last month, inflation in Uganda reached 18.7%, an 18-year high, while the local currency, the Ugandan shilling, reached an all-time low against the US dollar.
The government blames global economic factors for the high living costs.
Related Internet Links
The BBC is not responsible for the content of external sites.