Tanzania study shows one in three girls sexually abused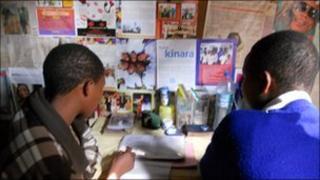 Nearly one third of Tanzanian girls experience sexual violence before they turn 18, a Unicef survey has found.
The figure among boys is 13.4%, says the UN children's agency.
The most common form of abuse is sexual touching, followed by attempted intercourse, it says.
Unicef official Andy Brooks said the survey was the most comprehensive carried out on this issue in any country and showed the government was prepared to tackle the problem.
"Tanzania is the first country with the courage to expose the full extent of child abuse among boys and girls," he told the BBC's Focus on Africa programme.
The survey also found that of those who had sex before they turned 18, 29.1% of females and 17.5% of males reported that their first encounter was unwilling.
This meant they were forced or coerced to engage in sexual intercourse, Unicef said.
Tanzania's Education Minister Shukuru Kawambwa said the government was determined to end sexual abuse.
It would set up reporting mechanisms for abuse victims and would urge teachers to take care of vulnerable children, he said.
Mr Brooks said similar surveys would be carried out in Kenya, Rwanda, Malawi, Zimbabwe and South Africa.