China's foreign minister in first visit to South Sudan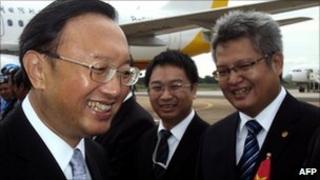 China's foreign minister is visiting South Sudan in the first high-level trip since its independence in July.
Yang Jiechi hailed a "bright future" between the two countries, following a meeting with President Salva Kiir in Juba.
Earlier this week, Mr Yang held talks with Sudanese President Omar al-Bashir.
China - which is heavily involved in Sudanese oil extraction - has been a strong supporter of Mr Bashir, despite claims of Sudan's war crimes in Darfur.
'Urgent solutions'
Mr Yang's visit comes one month to the day after South Sudan became independent.
"There's a bright future for China and South Sudan and for our relationship. So I wish the Sudanese people every success," Mr Yang told reporters after talks.
"Our two economies are there for each other and we want to see good co-operation in such areas like agriculture, infrastructure construction, oil production," he said.
South Sudan's Foreign Minister Deng Alor said he believed Mr Yang's visit would "set in motion a special relationship between the People's Republic of China and the Republic of South Sudan".
"As a newly independent nation we definitely need a country like China to help us in development of our infrastructure, of our agriculture, vocational system and many areas," he said.
Meanwhile, Sudan's Foreign Minister Ali Ahmed Karti has announced that Sudan has granted China more oil exploration rights, following Mr Yang's meeting with Mr Bashir in Khartoum on Monday.
"President Bashir has granted the China National Petroleum Corporation (CNPC) three promising new petroleum blocs and offered a partnership with the national petroleum company Sudapet in the fields where it operates," Mr Karti said late on Monday.
South Sudan has to export all its oil via the north because it has no port or refineries of its own. The two sides have so far failed to agree on transit fees, or how to share oil revenue.
Mr Yang's visit comes after Sudan last week released a cargo of South Sudanese oil it had blocked in a row over custom duties.
During his two-day visit to Khartoum which ended on Monday, Mr Yang urged both the north and the south to find "urgent solutions" to their outstanding differences for the sake of stability.
"We hope that Sudan and South Sudan will have good neighbourly relations based on the exchange of benefits," he said.
He also announced a 100 million yuan ($15.6m; £9.5m) interest-free loan to Khartoum, Reuters news agency reports.
South Sudan's independence follows decades of north-south conflict, which ended with a 2005 peace deal.
Both Sudan and the South are reliant on their oil revenues, which account for 98% of South Sudan's budget. But the two countries cannot agree how to divide the oil wealth of the former united state. Some 75% of the oil lies in the South but all the pipelines run north. It is feared that disputes over oil could lead the two neighbours to return to war.
Although they were united for many years, the two Sudans were always very different. The great divide is visible even from space, as this Nasa satellite image shows. The northern states are a blanket of desert, broken only by the fertile Nile corridor. South Sudan is covered by green swathes of grassland, swamps and tropical forest.
Sudan's arid north is mainly home to Arabic-speaking Muslims. But in South Sudan there is no dominant culture. The Dinkas and the Nuers are the largest of more than 200 ethnic groups, each with its own languages and traditional beliefs, alongside Christianity and Islam.
The health inequalities in Sudan are illustrated by infant mortality rates. In South Sudan, one in 10 children die before their first birthday. Whereas in the more developed northern states, such as Gezira and White Nile, half of those children would be expected to survive.
The gulf in water resources between north and south is stark. In Khartoum, River Nile, and Gezira states, two-thirds of people have access to piped drinking water and pit latrines. In the south, boreholes and unprotected wells are the main drinking sources. More than 80% of southerners have no toilet facilities whatsoever.
Throughout the two Sudans, access to primary school education is strongly linked to household earnings. In the poorest parts of the south, less than 1% of children finish primary school. Whereas in the wealthier north, up to 50% of children complete primary level education.
Conflict and poverty are the main causes of food insecurity in both countries. In Sudan, many of the residents of war-affected Darfur and the border states of Blue Nile and South Kordofan, depend on food aid. The UN said about 2.8m people in South Sudan would require food aid in 2013. The northern states tend to be wealthier, more urbanised and less reliant on agriculture.