Libya conflict: Rebels 'still holding' captured town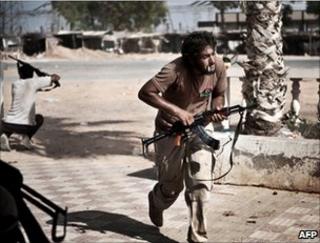 The Libyan town of Bir al-Ghanam, close to Tripoli, appears to be still under rebel control after an assault on Saturday, despite government denials.
Rebels were seen celebrating after capturing the town, 80km (50 miles) south of Tripoli, in an offensive aimed at ending months of deadlock.
An AFP correspondent said they were still in control on Monday morning.
Hours earlier, the government said the town had been recaptured and life was "back to normal".
The offensive launched on Saturday saw hundreds of rebels push out of the Nafousa Mountains in the west, down towards the towns of the coastal plain.
Military success in the west of the country is crucial to the rebels' chances of defeating Col Muammar Gaddafi's government, which has prevented the rebels advancing from their stronghold around Benghazi in the east.
Hundreds of people have been killed, and a UN-backed international no-fly zone has been imposed, since the uprising against Col Gaddafi's authoritarian rule began in February.
Three-pronged attack
"The rebels are controlling the checkpoints," the AFP correspondent reported from the Bir al-Ghanam area.
There was no shooting and Nato aircraft were flying over the area, the journalist added.
Earlier, in Benghazi, a spokesman said rebel forces were "moving closer" to Zawiya, a town seen as a stepping-stone to an assault on Tripoli itself.
Col Ahmed Bani added that rebel forces in the Misrata pocket to the east of Tripoli had also made progress, reaching the outskirts of Zlitan.
And a third push westwards is said to have begun recently from Brega in the east.
However, Libyan Prime Minister Baghdadi Mahmudi told reporters on Sunday that Bir al-Ghanam was under the "full control" of the government.
He also accused Nato planes of stepping up bombing of Tripoli and other Libyan cities, saying it no longer differentiated between civilian and military sites.
Nato said it had carried out 59 "strike sorties" on Sunday, clarifying that not all of these necessarily involved actual attacks.
Targets reportedly hit included two tanks, artillery pieces and munitions dumps, which were attacked near Brega, Zlitan and Misrata, and elsewhere.