Libya rebels in western offensive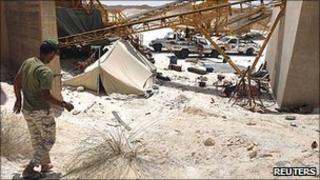 Libyan rebels in the country's west say they have launched an offensive towards key towns on the Mediterranean coast.
Commanders say they have captured the town of Bir al-Ghanam, 50 miles (80km) south of Tripoli, from forces loyal to Libyan leader Col Muammar Gaddafi.
However, there has been no official comment from the Libyan government.
Hundreds of rebel fighters have moved from the mountain town of Yafran to the front lines, where heavy fighting has taken place, AP news agency reports.
It quotes rebel fighters as saying the initial aim was to "liberate Bir al-Ghanam" before moving on Zawiya, a key city on the Mediterranean coast about 50km (30 miles) away.
Meanwhile, Reuters news agency quotes rebel spokesman Mohammad Zawawi as saying fighters were also advancing on the government-held oil town of Brega, further east.
"There's a big movement on all fronts around Brega, we are attacking from three sides," he said.
Landmines
However, he added that troops were advancing slowly because government forces had sown landmines on the approaches to the town.
Late on Saturday, rebel commander Col Jumma Ibrahim told AP that opposition forces had captured Bir al-Ghanam and had moved a few miles beyond it.
"Now he (Col Gaddafi) can only defend himself against us," he said.
"Our main destination is Tripoli but we cannot jump directly to Tripoli. We go one by one."
The assault is being seen as an attempt to open a new front and break the military deadlock that has emerged.
Rebels have been fighting government forces since March but Col Gaddafi's regime still controls much of the west, with its stronghold in Tripoli.
The rebels hold the east, with pockets in the west. These include the Nafousa Mountains, where Yafran is located, and the city of Misrata on the coast, east of the capital.
Earlier in the week, government forces launched a counter-offensive against rebels near the strategic western town of Zlitan.
Rebels had reached the city's eastern suburbs but were being hampered by a lack of ammunition.