Mogadishu machinations: Is the famine an opportunity?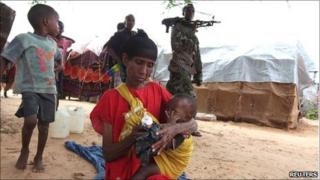 I have just swapped the despair, chaos and ruthless pragmatism of Somalia's capital, Mogadishu, for the surreal claustrophobia of the African Union's heavily fortified peacekeeping base at the city's airport.
There are big waves crashing on the nearby coast, rain showers blowing in from the Indian Ocean, lots of building work and resolute talk about "liberating Somalia from famine and international terrorism".
The commander of the AU's peacekeeping force (Amisom) is a stern Ugandan general called Nathan Mugisha, who is preparing to leave after two years of almost constant warfare.
Gen Mugisha has 9,000 troops in Mogadishu - less than half the number he would like - busy attempting to secure one portion of the city and to capture the rest of it from the Islamist militant group, al-Shabab.
As such, he is seen locally either as an essential force for stability in Somalia, or yet another well-armed warlord in a country where the wretched status quo seems to suit too many.
The general is blunt in his assessment of the outside world's efforts to fight the famine here.
"They're not doing enough. The famine came not by surprise - we expected it," he told me.
"But it seems we are fire-brigading. We should have prepared better."
And his advice for foreign aid agencies - many of which have been absent from Mogadishu for decades because of political and security issues - boils down to a simple: "Come here."
"We have enough security. You can't micromanage from afar."
Brutal logic
Like many officials I have met in Mogadishu this week, Gen Mugisha sees the famine not only as a tragedy, but also as "an opportunity" to break Somalia's complex political stalemate and stabilise the country.
In private, one African official here even went further - obscenely far - calling the famine "a blessing" because it would "jolt the UN and the US into proper action".
There is a brutal logic lurking there, for those preoccupied with the balance of power.
But a local MP shrugged and told me: "Sure it's an opportunity - but I don't think anyone here will seize it."
In Somalia's Byzantine, clan-based, highly-corrupt political environment, there are endless factors to consider.
But the key issue is the impact the famine may have on al-Shabab, and its support in the communities it controls.
"Generally, the famine is weakening everybody," said Gen Mugisha.
"But the humanitarian interventions are being hijacked in those areas where extremists are in control.
"They [al-Shabab] are taking the lion's share of the aid to mobilise... to recruit for their war effort.
"So the situation is being taken advantage of."
That may be the case - it is hard to verify - but I have spoken to many local and international non-governmental organisations which are quietly succeeding in getting aid directly to the hungry in al-Shabab areas without paying "taxes" to the local authorities.
In private, many of those organisations single out US legal restrictions as their biggest obstacle.
'Maddeningly frustrating'
Here in Mogadishu, the Amisom base is growing as UN humanitarian and political officers finally abandon the comforts of Nairobi, and set up shop in the sand dunes.
But security concerns mean they almost never venture into the country itself.
"It's maddeningly frustrating," one confided.
Instead, Amisom's giant armoured trucks act as portals between two parallel universes - bringing Somali officials into the base, and visiting dignitaries out, briefly, to the Presidential Palace in town.
At the base, the new prime minister of Somalia's Transitional Federal Government (TFG) emerged from the back of an armoured truck, followed by a retinue of aides - one holding a large umbrella over his head.
The TFG - recognised internationally as Somalia's government - is protected by Amisom.
Indeed, it would probably not survive for more than a few hours without Gen Mugisha's strong, expensive embrace.
In recent days, Prime Minister Abdiweli Mohamed Ali has been feisty in his criticism of the international response to Somalia's famine.
But "we've told him to tone it down", an aide muttered to me, as I prepared to interview Mr Ali.
Some would argue that the TFG itself has been rather too preoccupied with reshuffles and in-fighting, instead of helping the hungry crowds in Mogadishu's camps and neglected hospitals.
"We're very glad the international community has responded... but it's not sufficient," said the prime minister.
But he directed most of the blame towards al-Shabab.
"It's incumbent on them to do the right thing, which is to let the international community take relief to the needy people."
But a friend of mine in Mogadishu dismissed what he saw as mere posturing.
"The TFG is a joke," he said, wearily contemptuous of what he saw as the clan interests that masquerade as a national government.
"We are a clan society - these politicians talk about unity but their first loyalties are to the clan.
"You cannot tame a hyena. I despair about this country. I truly feel we have lost all hope."