Tunisia's Ben Ali guilty of corrupt property deals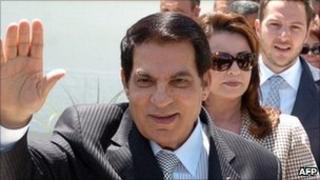 Tunisia's ousted President Zine al-Abidine Ben Ali, his daughter and son-in-law have been given jail terms in absentia over corrupt property deals.
They were also ordered to collectively pay $100m (£61m) in damages.
This is the third guilty verdict against Ben Ali, who fled in January to Saudi Arabia after weeks of protest - the first of the "Arab Spring" revolts.
Saudi Arabia has so far failed to extradite Ben Ali, despite a request by Tunisia's new interim government.
Ben Ali was accused of using his power to get property for his family at prices far below the market value in the capital, Tunis.
He and his son-in-law, businessman Sakher El Materi, were sentenced to 16 years in prison.
His daughter, Nesrine, who is married to El Materi, was given an eight-year jail term.
Ben Ali was first sentenced in June, along with his wife Leila, to 35 years in prison for embezzlement and misuse of state funds.
Earlier this month, he was convicted on charges of possessing illegal drugs and weapons after a one-day trial and given 15 years in jail.
Ben Ali ruled Tunisia for more than 20 years, before being toppled in a popular uprising that spread across North Africa and the Middle East.
His critics say his rule was marred by widespread human rights abuses and a lack of democracy.
His supporters say Tunisia was stable during his rule.