Libya rebels 'capture key supply route town of Ghazaya'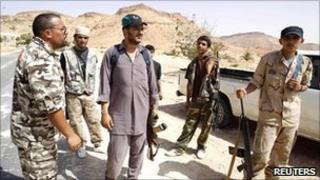 Libyan rebels say they have seized a strategically important town near the Tunisian border after heavy fighting with Col Muammar Gaddafi's forces.
A rebel spokesman said they had attacked Ghazaya in Libya's western mountains with rockets and tanks early in the morning.
Government troops had been using the town as a base from which to bombard rebel supply routes from Tunisia.
Libya's civil war has remained largely deadlocked over the past few months.
The rebels control most of eastern Libya from their base in Benghazi and the western port city of Misrata, while Col Gaddafi retains much of the west, including the capital, Tripoli.
The uprising against Col Gaddafi's 42-year rule began five months ago.
Nato continues to enforce a UN-backed no-fly zone over the country.