Aid reaches drought victims in Islamist area of Somalia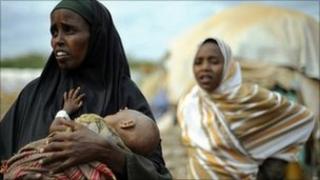 The Red Cross says it has delivered food into one of Somalia's worst hit drought areas, controlled by the Islamist militant group al-Shabab.
Working through a local committee, the Red Cross delivered by lorry food for 24,000 people.
The badly needed aid was distributed to families in the town of Baardhere, north-west of the capital Mogadishu.
But the World Food Programme says it cannot reach 2.2m people inside Somalia.
The food was delivered by the Red Cross was sent in from Mogadishu and given to locals and others who had come to the town to escape the famine.
The delivery took place on Saturday, and the Red Cross are now moving on to other areas.
The aid consisted of beans, rice and oil - enough rations to last a family one month.
This indicates that although al-Shabab has halted food aid by some agencies in areas they control, other agencies can operate in their territory.
Banned aid
This is vital, if the flow of Somalis into neighbouring Kenya and Ethiopia is to be reduced.
The World Food Programme is among the agencies banned by the Islamists.
Executive Director Josette Sheeran, who is in the area, says this is limiting the aid they can provide.
"The epicentre of this famine and the drought is in Somalia," says Ms Sheeran.
"We are able to reach about 1.5m people in Somalia but there is about 2.2m million that are not being able to be reached directly by humanitarian workers."
But while the World Food Programme is on the banned list, others like the Red Cross and Medecins Sans Frontiers, are still working in al-Shabab territory.