Forced to choose between Sudans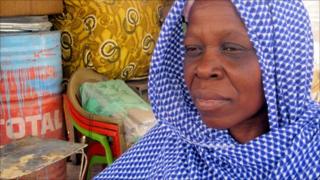 Makwaj Adol Malek has a problem - and it's one shared by hundreds of thousands of South Sudanese living in the north.
Their region has become an independent country - and they face losing their Sudanese nationality, and maybe much more, because of the split.
"South Sudan's independence has created problems for me," Mr Malek says.
"I feel I am in danger. When I take public transport people tell me 'your brothers have left - what are you doing here?'"
"But I tell them I have a pension and rights here."
Mr Malek was born in Khartoum around half a century ago and worked as a teacher and a soldier.
He speaks Arabic, not English, the new official language of South Sudan.
All the same, he is one of thousands of South Sudanese gathered at a train station in the Khartoum suburbs, waiting for a ride home.
Bed-frames and cooking pots are piled up next to the station as people move their whole lives to a place they may not even have seen.
"I did not decide to go back to the south, but the government told me 'your part of Sudan has decided to become an independent state, so you have nothing here,'" Malek explains.
He will take his family to his ancestral home, a place he scarcely knows, and then come back to Khartoum in an attempt to get his pension.
No choice but to leave
A few kilometres away along paved roads cutting through the desert, 545 Southern Sudanese are living rough under the hot sun.
They left their homes in December and are still waiting for the money they say they have been promised to take buses back to the south.
They have made houses out of anything they can find - bits of wood and old clothes and towels.
Magbula Osman is a chief, and is pushed forward by the residents of the improvised tent town to talk on their behalf.
"They are poor people, tired people with no money and they don't know what to do," she says.
"Their children are out of school since they were told they would be taken back home.
"People are living in complete misery, with nothing to eat."
She and others here blame both Khartoum and the new government in Juba, saying both have responsibilities to get them to South Sudan.
But all insist they have no choice but to leave Khartoum.
"I am South Sudanese," says Jerome. "Even if I lose my Sudanese nationality, it is not a problem, I am going. There is no future for me in the north."
'Thank you Khartoum'
Of course, not all Southern Sudanese here are in such a difficult situation.
Banguang Tap, a young opposition politician, lives in relative comfort.
The sofas in his living room are comfortable and he can watch Southern Sudan TV via a satellite dish.
"Those who came to Khartoum got educated here and engaged themselves in the Khartoum lifestyle," he says.
"You cannot say they do not belong to Khartoum, they belong to Khartoum in all senses.
"Khartoum received us during the war so we say thank you Khartoum!"
All the same, he and his friends intend to go to South Sudan.
They believe that as the south has seceded, they can no longer consider themselves Sudanese.
That opinion will soon become fact.
No dual nationality
The national assembly has agreed on a draft law that removes Sudanese nationality from anyone the authorities consider South Sudanese.
"When our government acknowledged the secession, that means all southerners living in the north will not have a right to enjoy northern nationality," explained Rabie Abdelati, a senior official at the ministry of information.
"This does not mean they will be all deprived of nationality, but their situations will be looked at on a case by case basis."
The law still needs to be signed off by the president, who would retain the right to restore Sudanese nationality to those who have lost it.
But Sudanese officials have already made it clear dual nationality will not be an option.
It seems likely that South Sudanese will be able to acquire some sort of residency right.
But the current situation is very unclear.
At the moment foreigners cannot own property in Sudan, which means losing their Sudanese nationality would be a big problem for the wealthier South Sudanese here.
Senior presidential adviser Nafie Ali Nafie has said there will be a nine-month transitional period for individuals to sort out their situation.
But in a country where many people do not have the correct papers this will be tricky.
Then there is the issue of those truly caught between two countries.
Mohamed Nour's grandmother was a Dinka from South Sudan, and the rest of his family is northern.
He was hired as a southerner in the civil service, as part of a peace deal, and then lost his job once the south became independent.
"It is a very bad thing. It is just like you are dividing one person into two," he says.
But if politics took his job away, what about his Sudanese passport?
"I don't think I will lose my nationality. Practically it is very hard to take people's citizenship away."
All the same, the status of those with parental links to Sudan and South Sudan is still very unclear.
'Not northern or southern'
It is estimated there are 800,000 to one million South Sudanese in Sudan.
Since last autumn a further 300,000 have already made their way to South Sudan.
Many more are likely to follow.
"Many people were born here, they've got their lives here, they've got their children in school, they've got many reasons to remain here actually," says Peter de Clerq, the Sudan representative for the UN's refugee body UNHCR.
"But for them, with the withdrawal of the nationality and very high bar that has been set for maintaining their status its going to be very difficult to maintain themselves here.
"So they may not have much of a choice in the long term."
Back at the train station, Mr Malek's dilemma is one felt by many.
"I feel like I belong to both countries.
"I'm grateful to the north because I am born here. I see it as my village.
"But I still love the south. I see my nationality as Sudanese, not northern or southern."
Unfortunately for Mr Malek, that is no longer reality.
Both Sudan and the South are reliant on their oil revenues, which account for 98% of South Sudan's budget. But the two countries cannot agree how to divide the oil wealth of the former united state. Some 75% of the oil lies in the South but all the pipelines run north. It is feared that disputes over oil could lead the two neighbours to return to war.
Although they were united for many years, the two Sudans were always very different. The great divide is visible even from space, as this Nasa satellite image shows. The northern states are a blanket of desert, broken only by the fertile Nile corridor. South Sudan is covered by green swathes of grassland, swamps and tropical forest.
Sudan's arid north is mainly home to Arabic-speaking Muslims. But in South Sudan there is no dominant culture. The Dinkas and the Nuers are the largest of more than 200 ethnic groups, each with its own languages and traditional beliefs, alongside Christianity and Islam.
The health inequalities in Sudan are illustrated by infant mortality rates. In South Sudan, one in 10 children die before their first birthday. Whereas in the more developed northern states, such as Gezira and White Nile, half of those children would be expected to survive.
The gulf in water resources between north and south is stark. In Khartoum, River Nile, and Gezira states, two-thirds of people have access to piped drinking water and pit latrines. In the south, boreholes and unprotected wells are the main drinking sources. More than 80% of southerners have no toilet facilities whatsoever.
Throughout the two Sudans, access to primary school education is strongly linked to household earnings. In the poorest parts of the south, less than 1% of children finish primary school. Whereas in the wealthier north, up to 50% of children complete primary level education.
Conflict and poverty are the main causes of food insecurity in both countries. In Sudan, many of the residents of war-affected Darfur and the border states of Blue Nile and South Kordofan, depend on food aid. The UN said about 2.8m people in South Sudan would require food aid in 2013. The northern states tend to be wealthier, more urbanised and less reliant on agriculture.