Famine to be declared in Somalia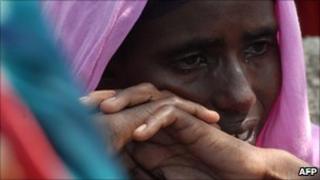 A famine is about to be declared in some parts of Somalia.
Multiple aid sources have confirmed that the United Nations will use the emotive word on Wednesday, after analysing the latest statistics and reports from the Horn of Africa.
"It will galvanise international attention," said a senior official from a western charity, speaking on condition of anonymity about the embargoed announcement.
"It enables us to say to those who tell us: 'You're crying wolf' - look at this. The situation is deteriorating rapidly."
The UN is expected to declare a famine in at least two regions of south central Somalia - Bakool and Lower Shabele. Other regions, including Puntland, are likely to be identified as being at risk of famine in the coming weeks unless the supply of aid increases substantially.
The last time a famine was declared in Somalia - or anywhere else according to some aid organisations - was in 1992. Ever since then, the country has been plagued by conflict, drought and poverty.
The word "famine" itself is used with extreme, almost scientific, caution by aid organisations. (See factbox)
Although the current drought has severely affected people in parts of Kenya, Ethiopia and Djibouti, war-torn Somalia is proving the most difficult to access because of insecurity.
The militant Islamist group, al-Shabab, controls - or exerts some influence over - much of the countryside, and banned foreign aid agencies two years ago.
On the ground, some aid organisations have continued to find ways around that ban, negotiating with individual communities and commanders and working through intermediaries.
Al-Shabab recently announced that some foreign groups would be allowed to resume direct delivery of humanitarian supplies, but that process remains fraught with complications and tensions.