Nigeria policemen in court trial for Boko Haram killing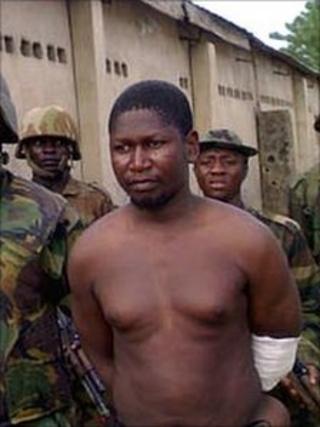 Four Nigerian policemen have appeared in court in the first public hearing over the killing of radical Islamist leader Mohammed Yusuf in 2009.
The Boko Haram leader was captured alive in Maiduguri and paraded in front of video cameras, but his body was later displayed riddled with bullets.
Legal proceedings began earlier this year but the hearings were kept secret.
There has been an increased frequency of attacks, blamed on Boko Haram, targeting the police.
There was tight security around the Abuja court house as the hearing opened with the four police officers in court, says the BBC's Habiba Adamu at the scene in the capital.
The trial has now been adjourned until next Tuesday when a fifth officer will be included in the trial and formal charges will be made against the men.
The Nigerian government is often accused of failing to prosecute police accused of brutality and extra-judicial killings.
Fight for Islamic rule
Two years ago, Nigeria's security forces brutally suppressed an uprising by Boko Haram, destroying their compound and then capturing Mr Yusuf.
Instead of disappearing, the group, which opposes Western education and fights for Islamic rule, re-emerged last September and vowed to avenge its leader's death.
Last month, the group said it had carried out an attack on the headquarters of the Nigerian police in Abuja, which killed at least six people.
Most of its attacks take place in the north-eastern city of Maiduguri, in Borno state, where thousands of people have been fleeing in recent days.
On Tuesday, the university in Maiduguri was closed because of the growing insecurity.
The security forces in the city have also been accused of firing indiscriminately and killing civilians after the raids.
Legislators from Borno state held a press conference in Abuja on Tuesday to condemn the military strategy in Borno and called for an amicable solution to the conflict with Boko Haram.
Last week, Maiduguri banned all motorbikes to prevent drive-by shootings by Boko Haram.
Its gunmen often use motorbikes to assassinate security officers and politicians.
The group's official name is Jama'atu Ahlis Sunna Lidda'awati wal-Jihad, which in Arabic means "People Committed to the Propagation of the Prophet's Teachings and Jihad".
But residents of Maiduguri, where it was formed in 2002, dubbed it Boko Haram.
Loosely translated from the local Hausa language, this means Western education is forbidden.
Residents gave it the name because of its strong opposition to Western education, which it sees as corrupting Muslims.