Zanzibar profile - Media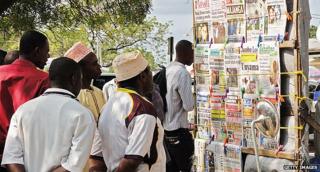 The media in Zanzibar come under a different set of regulations to their counterparts in mainland Tanzania.
Press laws are stricter, Reporters Without Borders said in 2010. The watchdog added that media freedom had improved in recent years.
State-owned Zanzibar Broadcasting Corporation (ZBC) runs radio and TV stations. They are mouthpieces of the local government, a 2012 study found.
More than 20 radio stations and several TV channels - some of them privately-owned - are licensed.
The BBC broadcasts on FM in Zanzibar (94.1) and Pemba (93.5).
The press
Zanzibar Leo (Zanzibar Today) - state-run daily
Zanzibar Wiki Hii (Zanzibar This Week) - private, weekly
Television
Radio
Voice of Tanzania-Zanzibar - government-operated