Somaliland profile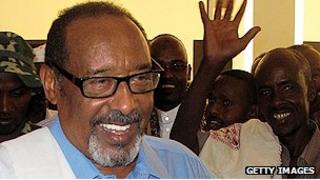 President: Ahmed Mohamed Silanyo
Ahmed Mohamed Silanyo came to power in July 2010 following elections considered largely free and fair by international observers.
He defeated the sitting president, Dahir Riyale Kahin, who had been appointed by a council of elders in 2002 and won the territory's first multi-part elections in 2003.
Mr Silanyo, who has a degree from the London School of Economics, is Somaliland's fourth president since the territory unilaterally proclaimed its independence from the rest of Somalia in 1991.
Reportedly born in the mid-1930s, Mr Silanyo headed the Somali government ministries of planning and commerce in the 1970s, before joining the rebel Somali National Movement (SNM) which led the secession of Somaliland.
He served as Somaliland's finance minister between 1997 and 1999, before being appointed planning minister. In 2001 he moved to the United Kingdom, returning in 2002 to form the Kulmiye party.
He lost to Mr Kahin in the 2003 polls.
He has said gaining international recognition was one of his priorities.