Rhino horn 'kingpin' Lemtongthai in South African court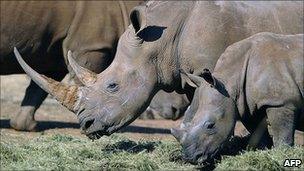 A Thai man has appeared in a South African court on charges related to smuggling rhino horns.
Chumlong Lemtongthai, 43, has been described as a "leading figure" in international rhino poaching.
He was arrested in Johannesburg after a year-long investigation, officials said.
There has been a sharp increase in rhino killings in recent years to fuel the demand in Asia, where it is used in traditional medicine.
More than 300 rhinos were killed in South Africa last year.
Mr Lemtongthai allegedly obtained trophy hunting permits and used them to organise illegal poaching expeditions - he would then buy back the horns from the hunters for an average of 65,000 rand ($9,700; £6,034) per kilogram and export them, officials say.
"He's quite extensively involved at a very high level," said South Africa Revenue Services (Sars) spokesperson Anton Fisher, the AFP news agency reports.
Mr Lemtongthai has been remanded in custody and will appear in court on 15 July.
As well as traditional Chinese medicine, rhino horn is also used for decoration and to produce luxury goods.
Last week, Europol uncovered an Irish organised crime group illegally trading rhino horn worth tens of thousands of euros as far afield as China.
Related Internet Links
The BBC is not responsible for the content of external sites.