Zambia profile - Media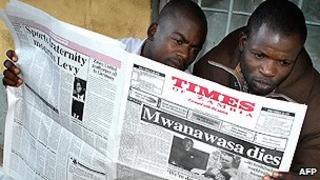 State-run radio and TV, operated by the ZNBC, are on the air alongside private broadcasters.
Radio is the main source of information. ZNBC is the only broadcaster with national reach.
The government uses financial pretexts or laws on defamation and sedition to prosecute journalists, says Reporters Without Borders.
The media came under "sustained assault" in 2016, a presidential election year, says the Committee to Protect Journalists. Broadcasting licences were suspended and a major non-state newspaper, The Post, was closed.
Relays of BBC World Service (98.1 FM in Lusaka and Kitwe) and Radio France Internationale are on the air. There are scores of local radio stations. Multichannel pay-TV is available.
There were nearly 3.2 million internet users by 2016 (Internetlivestats.com).
The press/internet
Television
Radio