Zambia profile - full overview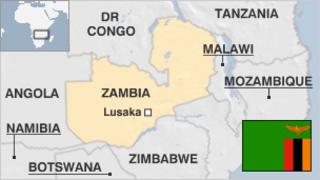 Zambia, in south-central Africa, is the continent's biggest copper producer and home to the Victoria Falls, one of the Seven Natural Wonders of the World.
The Victoria Falls - also known locally as the ''Smoke that Thunders'' - are to be found along the Zambezi River and have UNESCO World Heritage status.
They are one of the country's many natural features which have been enticing a growing number of tourists, along with the wide variety of wildlife to be found in large game parks.
Another draw for visitors is the fact that Zambia has been peaceful and generally trouble-free, especially compared to most of the eight neighbours with which it shares a border.
The area was colonised in the 1800s and ruled by Britain as Northern Rhodesia until 1964, when it made a peaceful transition to independence.
Economy
Kenneth Kaunda - who led the country at independence and for the next three decades - introduced central planning into the economy and nationalised key sectors including the copper mines. His policies, together with a drop in copper prices, are blamed for the country's economic woes during his time.
The country was also made to suffer for its support of liberation movements trying to remove white rule in South Africa and what is now Zimbabwe.
The country's economic fortunes began to change in the late 1990s when the privatisation of the mining sector began to draw in foreign investment and improve output. Government support for agriculture is also said to have contributed to economic growth, averaging around 6% a year in recent years.
China in particular has invested heavily in Zambia, creating jobs and new infrastructure. Census date suggests about 100,000 Chinese live in the country, and about 500 firms are active in sectors across the economy.
On the flipside, labour relations at Chinese-owned firms have sometimes been tense, and some Zambians complain of being exploited.
Politics
President Kaunda imposed single-party socialism, in which his United National Independence Party (UNIP) was the only legal political party within a ''one-party participatory democracy''.
Constitutional change was introduced in 1991 under popular pressure, allowing a multi-party system and a change of leadership.
Zambia has a reputation for political stability and a relatively efficient, transparent government.
However, social conditions are tough. Poverty is widespread. Life expectancy is among the lowest in the world and the death rate is one of the highest - largely due to the prevalence of HIV/Aids.