Circumcision: Rwanda's quick cut to fight HIV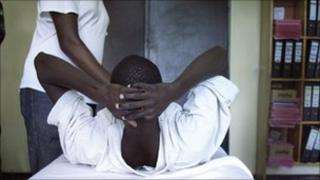 Circumcision in heterosexual males could reduce HIV by up to 60%, according to the World Health Organization (WHO). In Rwanda, the BBC Focus on Africa magazine's Matthew Stein looks at government efforts to convince men to consider circumcision through a new non-surgical procedure that is cheaper, cleaner and more accessible.
In a cool room in Kigali's Kanombe Military Hospital a group of camera and notebook-toting doctors, nurses and researchers are standing to attention.
On request of the consultant doctor, the young man standing in the middle of the room calmly lowers his trousers.
He is here to reveal the results of his nine-day old circumcision, a new, non-surgical procedure for adults which is being tested in Rwanda.
A thick gauze bandage, which was placed around the tip of his penis after his foreskin was removed two days earlier, is clean and without blood.
Dr Jean Pierre Bitega, the specialist who oversaw the operations explains: "We want to see if, in the future, a patient can remove the dressing alone at home."
In an adjacent room, 21-year-old Richard Muheto is preparing to undergo the same circumcision procedure.
A student from Bugesera in south-east Rwanda, Mr Muheto says he has long wanted to be circumcised to reduce his risk of contracting HIV and "to be a cleaner person for washing".
Wasting no time
In 2010, the WHO said there was compelling evidence that circumcision can reduce the risk of HIV infection by around 60% in high risk areas such as sub-Saharan Africa.
However, those involved in the fight against Aids stress that using condoms and staying faithful to one partner offer far more reliable protection.
Experts give several reasons for this including that the foreskin traps HIV in a moist environment allowing the virus to live longer.
But until recently this was unaffordable for people like Mr Muheto.
Then he heard from a colleague that the government was offering a "new kind" of non-surgical circumcision which was free of charge. He wasted no time in signing up.
The new procedure involves the use of a device called a PrePex, a three-piece mechanism consisting of two plastic rings and an elastic mechanism.
It is clamped onto the penis without any need for sutures or anaesthesia. As such the procedure can be done in any clean, sheltered environment releasing Rwanda's already stretched surgical theatres for more urgent matters.
Moreover, using the device is simple and can be taught to nurses in just two days, allowing medical professionals to concentrate on other complex operations.
"We had been waiting for this innovation but until the PrePex we didn't have it," says Rwandan Health Minister Agnes Binagwaho.
In fact, Rwanda became so intrigued with PrePex that it sent two of its own health specialists, Dr Bitega and Leon Ngeruka, to help the American manufacturer, Circ MedTech, improve the device for the country's particular environment.
Since then, Rwanda has been conducting its own PrePex studies to satisfy WHO standards.
'No pain'
The objective is to scale up use for a mass circumcision initiative across the country.
The campaign, which was launched in December 2010, intends to halve Rwanda's current HIV incidence rate of 3% by circumcising two million men by the end of 2012.
Since early May, nurses have been undergoing a two-day training course as opposed to the 15 days it takes to learn surgical circumcision. By mid-May, says Dr Bitega, six nurses had successfully graduated and 10 more were expected by June.
Mr Muheto is impressed by the swiftness of the procedure and says there is no pain to report. For good measure, he will receive two oral painkillers, but will be discharged immediately. A week later he must return to have his foreskin removed.
Since the campaign began, Rwanda has circumcised 5,000 men but it can dramatically increase these figures.
The health ministry estimates that with 500 health facilities in the country Rwanda can perform approximately 250,000 procedures every two weeks.
However, circumcision is still a foreign concept to Rwandans. Only 15% of adult males are circumcised. In rural areas, where illiteracy is high and traditional customs are more entrenched, this falls to as low as 1-2%.
The government has launched a public education sensitisation campaign on the radio with the help of local leaders and community health workers.
"When the service is available the community complies," says Corine Karema, acting director of the Treatment and Aids Research Centre. "When it's the government that plans they know it's for their better health."
Innocent Mpirimbanyi, the health and education officer for Ndera village near Kigali, had only heard about the sensitisation campaign from radio advertisements. "I haven't received any documentation on this subject," he says.
But the procedure has yet to receive full approval from the WHO. Without this, funding from organisations like the UN's Global Fund or Pepfar, the United States President's Emergency Fund for Aids Relief, will remain out of reach.
The European Union has already endorsed PrePex but the WHO needs ample clinical data to inform its decision. It requires that a given device be tested in different contexts before it is approved, explains Kim Dickson, a senior adviser in the WHO's HIV/Aids department.
But so far the data received from Rwanda has been "extremely promising", she says.
For local Rwandan officials the viability of the new method is beyond doubt. "We've had zero infections," says Dr Bitega, "it's perfect every time."
Matthew Stein is the regional editor for The Independent, a Uganda-based weekly news magazine