Senegal suspends Hissene Habre's repatriation to Chad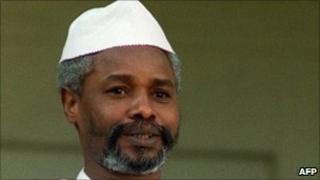 Senegal has suspended its planned repatriation of Chad's former President Hissene Habre, who has been sentenced to death in his home country, Senegal's foreign minister has said.
The move followed an appeal by UN human rights chief Navi Pillay.
Ms Pillay had expressed concern that Mr Habre could be tortured in Chad.
Mr Habre is blamed for killing and torturing tens of thousands of opponents between 1982 and 1990, charges he denies.
Senegal's Foreign Minister Madicke Niang on Sunday announced the government had reversed its decision to return Mr Habre following the UN plea.
Mr Niang told state broadcaster RTS that Senegal would hold talks with the UN and European Union to try to solve the situation.
Sentenced in absentia
Earlier Ms Pillay said in a statement: "I urge the government of Senegal to review its decision.
"As a party to the Convention Against Torture, Senegal may not extradite a person to a state where there are substantial grounds for believing he would be in danger of being subjected to torture."
Mr Habre, 69, has been living in the Senegalese capital, Dakar, since he was ousted in 1990.
A 1992 Truth Commission in Chad accused him of being responsible for widespread torture and the death of 40,000 people during his eight-year rule.
In 2008, he was sentenced to death in absentia for planning to overthrow Chad's government.
Senegal arrested Mr Habre in 2005, after he was charged by Belgium with crimes against humanity and torture.
Belgium has also been asking the International Court of Justice to have Mr Habre extradited to Belgium, where survivors have filed a case against him.