Senegal profile - Media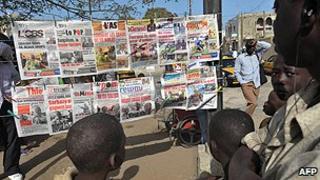 Senegal has traditionally had one of the most unrestricted and diverse media scenes in the region.
The constitution guarantees freedom of information and abuses against journalists are relatively infrequent, says Reporters Without Borders. But some subjects remain off limits for reporters.
Radio is an influential medium. Commercial and community stations have mushroomed.
There are nearly 20 daily newspapers. BBC World Service (105.6 MHz) and Radio France Internationale are available on FM in Dakar.
By 2016 there were 3.6 million internet users (Internetlivestats.com). Access is unrestricted.
The press
Television
Radio
News agencies