South Sudan: Voices from a new nation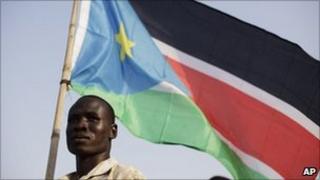 Tens of thousands of South Sudanese have watched the raising of the country's new flag at an independence ceremony in the capital, Juba.
South Sudan became the world's newest nation at midnight, the climax of a process made possible by the 2005 peace deal that ended a long civil war.
The south's independence follows decades of conflict with the north in which some 1.5 million people died.
Here, BBC News website users from South Sudan and its diaspora give their reaction to the inauguration of a new nation.
Joseph Aleu Majok from Wau
In my view, South Sudan although now one of the world's least developed states, will be able achieve considerable development and a good standard of living as the country is endowed with abundant natural resources.
Signs of hope and progress across all the capitals of the ten states of South Sudan are already visible to anyone who happened to be in the country before 2005.
This clearly shows how the South Sudanese themselves can develop their country better than the Arabs in the Republic of Sudan. But progress will only be attained with good governance in place.
Real challenges exist and may impede the development process, but if all are solved the country will undoubtedly emerge an economically and politically strong state, perhaps even stronger than its northern neighbour.
Ngodi Elinana from Juba
This Saturday, July 9, South Sudan will join the community of nations. Foreign dignitaries will converge on its capital, Juba, to watch the new country raise its flag and inaugurate its first president, Salva Kiir Mayardit.
For the more than eight million citizens of South Sudan, it will be a momentous and emotional day. In January, they voted in an historic referendum to separate from the rest of Sudan. They did so peacefully and that is a credit to both people in the north and south.
Yet nationhood has come at steep cost. A staggering number of lives have been lost and people displaced in a 21-year civil war that ended only in 2005. When the assembled presidents and prime ministers board their official planes to return home, the challenges that remain will be daunting indeed.
On the day of its birth, South Sudan will rank near the bottom of all recognised human development indices. The statistics are truly humbling. It has the world's highest maternal mortality rate. Estimates of illiteracy among the female population exceed 80%. More than half of its people must feed, clothe and shelter themselves on less than a dollar a day.
Critical issues of poverty, insecurity and lack of infrastructure must all be addressed by a relatively new government with little experience and only embryonic institutions.
Grace Jokudu Subek from Florida, US
Twenty five years ago I was separated from my parents because of the long civil war, I was six-years-old at the time.
Independence and freedom is a golden opportunity for people like me to go back and search for our relatives, and also for all the Southern Sudan people to enjoy the fruits of their motherland.
I hope to see development in all sectors because citizens need to improve their living standards, they deserve a happy life after such a long struggle.
Congratulations to everyone in South Sudan, I hope to come home soon.
Ajith Kon Manguen in Rumbek
I am very happy to see my people free from slavery and hardship today as we celebrate our first day of independence.
Congratulations to our late father John Garang de Mabior and all those who lost their dear lives during the long struggle. We now have the promised land, the land of freedom.
South Sudan Oyeee!
Simon Tut Gony in Bor
South Sudan will be a democratic country, foreign investors will be allowed to build for the local population, our diasporas will bring the knowledge that they have gained from everywhere around the world and deliver it to the people here in South Sudan.
I am not worried about any danger after independence because the people of South Sudan have experienced all the consequences of a war between themselves, they now have the wisdom to avoid these problems in future.