South Sudan: How long will the smiles last?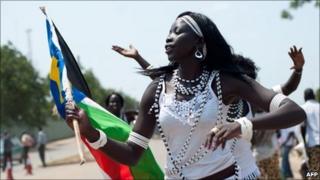 The excitement of South Sudan's independence is not confined to the new capital, Juba.
"July the ninth means a lot to me. When we were ruled by Khartoum there was no education for our children. We want to rule ourselves," boomed Paul Modi, the chief of Loi village - a small fishing community on the banks of the River Nile.
On the radio was a song praising those who fought during the lengthy civil war.
The chief's little dance went up a gear when John Garang's name rang out.
The man who led the South Sudanese rebels died in 2005 but his portrait still hangs in many offices, shops and homes.
"We used to carry fish on our heads to Terakeka town or we used our wooden dug-out canoes but now we see motor boats," said Chief Paul Modi as he showed me the reed hut where fish are dried to a crisp above a wood-fired oven.
"Things are changing and even the road is okay so we can sell our fish in Juba. In a few years we will see a lot of industries here."
Men and women marched through the dusty streets of Terakeka singing: "I will never leave my land till I die."
A much repeated chorus throughout the decades of civil war.
They came to a halt and then a man brought his mobile phone to the front, held it up and out came the opening bars of the latest hit.
Hands on hearts they belted out the anthem for the new nation.
"Our parents and grandparents were suffering for so long because of war. They brought us independence and so I thank them and I thank God," secondary school student Sarah Keji told me.
Expectations here are high and the wish list is as long as the Nile.
"After independence, life will be better than before. We are going to see justice, prosperity and our country will develop," she said.
Confiscated machetes
But for every optimist I have met in South Sudan I have bumped into many people, mostly visitors, predicting doom and gloom after independence.
Their argument has plenty of ammunition.
For starters the statistics are shocking:
One out of every seven children dies before their fifth birthday
South Sudan has one of the worst maternal mortality rates in the world
One out of seven women who become pregnant will probably die from pregnancy-related causes
More than half of children between the ages of six and 13 are not in formal education
84% of women cannot read or write. Only 6% of girls who start school ever finish.
Then there are the internal conflicts in South Sudan - armed rebellions and clashes over cattle which have killed more than 1,500 people this year.
Two years ago I drove north of Juba through Terakeka County past burnt villages and camps for people displaced by inter-ethnic violence.
Now this area is far more peaceful thanks to a disarmament exercise - a staggering 10,000 guns were collected in this county alone.
Ahead of the independence celebrations the army went on house-to-house searches.
"We can take no chances because when people celebrate many will get drunk and they can fight," Terakeka County commissioner Clement Maring Samuel told me, standing beside a large stack of confiscated machetes, spears, bows, arrows and one gun from the 1940s.
He has big dreams, which depend on peace.
"We are reserving this area for hotels which will have a spectacular view," he said as we stood beside a mango grove looking out over the River Nile.
"Terakeka will become a second Juba. We have the river, very fertile land and this area even has oil deposits and iron ore," said Mr Samuel.
Saturday 9 July sees the birth of two new nations, not just one.
You could argue the north will be more precarious than the south, given the anger with the Sharia-focused government amongst a growing number of marginalised communities in the north.
For there to be peace in South Sudan depends to a great extent on the relationship between the two after the divorce.
Right now the signs are not good with tension along the oil-rich border.
"Life in South Sudan is likely to be precarious for some years to come," says Sudan expert and academic Douglas Johnson.
"As long as the main priority of the government of South Sudan is maintaining security, especially along the border region, the less it will be able to focus on delivering the types of services and development the populace expects," he says.
With 75% of the known oil deposits in the south, the Khartoum government's economy is about to be hit hard.
The oil-rich border has still not been demarcated so fighting for control of the oil fields is still a possibility, although the Khartoum government would then be taking on a recognised nation.
"After 9 July any conflict with South Sudan will no longer be an internal matter, but an international one, against a nation recognised by its neighbours and a member of international organisations," Mr Johnson pointed out.
Although agriculture has great potential here, more than 95% of the southern government's revenue comes from oil.
For now it all flows north so the relationship needs to be good.
Returnee confidence
But the mistrust and suspicion run deep.
"It is only a small clique in Khartoum that is running things," said John Garang's son, Mabior Garang De-Mabior.
"And as long as that clique remains in Khartoum, the marginalised people in the north will not be safe and the independence of southern Sudan will not be safe because of the nature of the beast that we are dealing with."
Some Sudan watchers believe that even if Khartoum does not make life hard for the south, the southerners themselves could very well make a mess of it on their own.
Just as the country is trying to get on its feet, alarm bells are already sounding over corruption, tribalism and signs of autocratic rule.
One long time Sudan watcher put it this way: "I would not be surprised if South Sudan became the next Eritrea."
In 1993 Eritreans voted overwhelmingly for independence. Now the nation is seen as one of the most oppressive on the continent.
Behind the walls of John Garang International School in Juba there is evidence of confidence in the new nation from some of the wealthier southerners.
"I am getting many e-mails from South Sudanese living in the Netherlands, the US, Canada who say they will come back home after 9 July," said Susan Magondu, the Kenyan principal at the $3,000 (£1,900) a year school.
"These are doctors and engineers asking me to, 'Keep a place for my child,'" she says.
The question is how long the smiles will last after the party.
"I cannot predict whether it will be squandered or not. That will depend on us as a nation and what we do as a nation so I will leave that to history," said Mabior Garang De-Mabior.
"I'm not saying it's a well-oiled machine but in the context of our people's history there has been no better time or opportunity."
Both Sudan and the South are reliant on their oil revenues, which account for 98% of South Sudan's budget. But the two countries cannot agree how to divide the oil wealth of the former united state. Some 75% of the oil lies in the South but all the pipelines run north. It is feared that disputes over oil could lead the two neighbours to return to war.
Although they were united for many years, the two Sudans were always very different. The great divide is visible even from space, as this Nasa satellite image shows. The northern states are a blanket of desert, broken only by the fertile Nile corridor. South Sudan is covered by green swathes of grassland, swamps and tropical forest.
Sudan's arid north is mainly home to Arabic-speaking Muslims. But in South Sudan there is no dominant culture. The Dinkas and the Nuers are the largest of more than 200 ethnic groups, each with its own languages and traditional beliefs, alongside Christianity and Islam.
The health inequalities in Sudan are illustrated by infant mortality rates. In South Sudan, one in 10 children die before their first birthday. Whereas in the more developed northern states, such as Gezira and White Nile, half of those children would be expected to survive.
The gulf in water resources between north and south is stark. In Khartoum, River Nile, and Gezira states, two-thirds of people have access to piped drinking water and pit latrines. In the south, boreholes and unprotected wells are the main drinking sources. More than 80% of southerners have no toilet facilities whatsoever.
Throughout the two Sudans, access to primary school education is strongly linked to household earnings. In the poorest parts of the south, less than 1% of children finish primary school. Whereas in the wealthier north, up to 50% of children complete primary level education.
Conflict and poverty are the main causes of food insecurity in both countries. In Sudan, many of the residents of war-affected Darfur and the border states of Blue Nile and South Kordofan, depend on food aid. The UN said about 2.8m people in South Sudan would require food aid in 2013. The northern states tend to be wealthier, more urbanised and less reliant on agriculture.