Senegal to return former Chad President Hissene Habre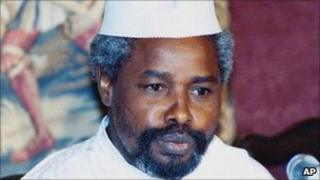 Former Chadian President Hissene Habre is to be sent home from Senegal to face accusations that he committed atrocities during his eight-year rule.
Senegal said Mr Habre would be flown to Chad on 11 July.
Mr Habre is blamed for killing and torturing tens of thousands of opponents between 1982 and 1990, charges he denies.
Mr Habre - sometimes dubbed "Africa's Pinochet" - has been living in Dakar since he was ousted.
In a statement, the Chadian government said President Idriss Deby was informed about the decision to return Mr Habre by Senegalese President Abdoulaye Wade.
Dakar separately confirmed this, without providing a reason for its move.
In 2008, Mr Habre was sentenced to death by a court in Chad for planning to overthrow the government.
He was sentenced in absentia along with several rebel leaders, who launched an assault on the Chadian capital, N'Djamena, earlier that year.
Senegal arrested Mr Habre in 2005, after he was charged by Belgium with crimes against humanity and torture.
Belgium has also been asking the International Court of Justice to have Mr Habre extradited to Belgium, where survivors have filed a case against him.