DR Congo plane crashes at Kisangani airport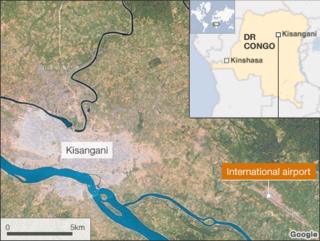 A passenger plane with 112 people on board has crashed at Kisangani airport in the Democratic Republic of Congo, officials say.
More than 50 people have been found alive, but more than 50 others are known to have died, reports say. Many of the injured are badly burned.
The plane, operated by the Congolese airline Hewa Bora, had tried to land in bad weather, officials said.
The Boeing 727 had flown from the capital, Kinshasa.
"The pilot tried to land but apparently they didn't touch the runway," Hewa Bora chief executive Stavros Papaioannou told Reuters.
Government spokesman Lambert Mende said the aircraft had crashed very close to the airport during a thunderstorm.
A official at Kinsangani airport said he saw the plane hit the ground in a forest area and end up in a bamboo grove, where it caught fire.
A witness said 53 bodies had been recovered, including those of the two pilots.
Many of the injured are said to have suffered severe burns and the death toll is expected to rise.
Blacklisted airline
Hewa Bora is a private Congolese airline that runs scheduled flights from Kinshasa to the central city of Kisangani and other destinations.
The firm is on a European Union airline blacklist over safety concerns.
Hewa Bora has been involved in four previous incidents of concern, according to the Aviation Safety Network website, including a 2008 crash when a DC-9 crashed on take-off in the Congolese town of Goma. More than 40 people died, most of them on the ground.
According to Hewa Bora's website, the airline has eight planes in its fleet: five MD-82s, two Boeing 727s and one Boeing 727-266 ER.
All other airlines certified by authorities in DR Congo are also on the EU blacklist.