Ivory Coast ex-rebel commander Bakayoko named army head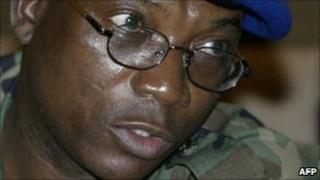 A former top rebel commander in Ivory Coast, Gen Soumaila Bakayoko, has been named as chief of staff of the country's new army.
His deputy will be the ex-head of the land forces under Laurent Gbagbo, who was president until April.
The nominations are seen as an attempt to restore stability and reconciliation to Ivory Coast.
An estimated 3,000 people were killed in the stand-off following the elections in November.
The UN oversaw the poll and said it was won by Mr Gbagbo's rival Alassane Ouattara, who has since been inaugurated as Ivory Coast's president.
Mr Gbagbo was arrested in the main city of Abidjan on the southern coast after forces loyal to Mr Ouattara marched from their northern bases following months of political stalemate.
Together with UN peacekeepers, French forces launched air strikes on Mr Gbagbo's heavy weapons.
Several members of Mr Gbagbo's army command defected during the battle for Abidjan, including Firmin Detoh Letoh, who is now deputy chief of staff.
Gen Bakayoko will oversee the integration of the two forces into a new national army.
The elections in Ivory Coast were meant to draw a line under a 2002-03 civil war which left the country split in two.
Mr Gbagbo is being held under house arrest in the north of the country and has not yet been charged.