Libyan rebels advance towards key town south of Tripoli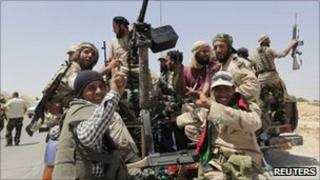 Libyan rebels have advanced against government forces on a strategically important road south of Tripoli.
They have moved between 10-15km (6-16 miles) in the last 24 hours towards the government-held town of Gharian, a BBC correspondent says.
The town controls access to one of the main roads leading from the desert northwards towards the capital.
Earlier, rebels in Misrata said progress towards Tripoli was being hampered by a lack of ammunition.
They also said support from Nato was inadequate.
Moving carefully
The new front line has brought the rebels closer to Gharian, an important garrison for Col Muammar Gaddafi's forces, the BBC's Mark Doyle in Libya reports.
This is the most significant confirmed advance the rebels have made in this part of Libya in the past few weeks, our correspondent says.
He adds that empty ammunition boxes and spent bullets litter the ground, along with army uniforms discarded by the government troops. Fires caused by the clashes are still smouldering.
If the rebels can take Gharian, they will control the main north-south road to Tripoli.
But rebel fighters say the town is heavily defended, and they are moving forward carefully to avoid civilian casualties.
Our correspondent adds that the rebels are obviously also moving slowly because Col Gaddafi's forces are resisting them each step of the way.
Misrata stalemate
On Wednesday, officials in the rebel-held city of Misrata said 17 of their fighters were killed and more than 60 wounded.
A rebel spokesman said Nato air cover was patchy, with deadly consequences.
"When the aircraft is flying in the sky... it means Gaddafi's forces cannot use rocket launchers on the ground, they are afraid [of] aircraft... observing them and... striking them," Fatti Bashada told the BBC's Gabriel Gatehouse, near Misrata.
Mr Bashada said that despite repeated requests to keep patrolling the skies, Nato aircraft have, in recent days, disappeared half-way through a battle.
"When there's no flight, it means they are free to use any weapons against us," he said, adding that rockets fired by Col Gaddafi's fighters were killing an increasing number of rebels.
Rebel forces and soldiers loyal to Col Muammar Gaddafi have been locked in a stalemate to the west of Misrata for more than six weeks.
Libya is under an international arms embargo and fresh supplies from the rebel stronghold of Benghazi in the east of the country have been slow in coming.
Rebels have said that, until this changes, their progress towards Tripoli will be both slow and painful.
UN Security Council resolution 1970 imposed an arms embargo on Libya but US and UK officials have argued that a subsequent resolution, 1973, could nonetheless allow weapons to be supplied to rebels fighting to topple the Libyan leader.
Rebels hold much of Libya's east, plus Misrata and several towns in the Nafusa mountains near the Tunisian border.
Those in the mountains have been boosted by deliveries of arms dropped by French aircraft last month.
Russia has condemned France for supplying weapons to the rebels and, along with China, has said that the Nato campaign has gone beyond the remit of resolution 1973.
Nato and several Arab states mandated to defend civilians have been carrying out air strikes against military targets linked to Col Gaddafi for more than three months.
Pressure has been growing to find an end to the conflict. The rebels insist Col Gaddafi must step down.