Uganda traders close shops in protest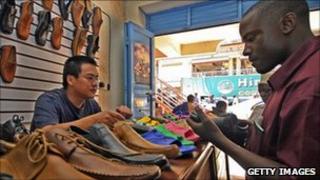 Shop owners in Uganda's capital, Kampala, have shut their businesses to protest against a weakened currency and the influx of Chinese traders.
The shop owners said the weaker shilling raised the cost of imports.
At the same time, they said they could not compete with Chinese businessmen who flooded Uganda with cheap products.
Their two-day strike is the latest in a series of demonstrations against the rising cost of living in Uganda.
Anti-riot police patrolled Kampala on Wednesday, the first day of the strike, to prevent any outbreak of violence.
A spokesman for the Kampala City Traders Association, Issa Sekito, said they shut their businesses to urge the government to address their grievances.
"The shilling is too weak against the dollar and, while there are global factors, there are internal ones, too," he told the BBC's Focus on Africa programme.
'Alien traders'
Mr Sekito said his association wanted the government to curb trading by Chinese businessmen who have built a strong presence in Uganda.
"Over the years, we have been complaining to government over the aliens doing petty trade, especially the Chinese - who come in as investors," he said.
The shilling dropped to a record low against the US dollar last month, before the central bank intervened to strengthen it.
Reuters news agency reports that the traders' strike caused a rise in the price of staples like sugar and salt in Kampala.
"It is hard, hard to live now because things are too expensive," a resident, Linda Ssempijja, told Reuters.
"But I don't blame the shopkeepers. They are suffering, too. I blame the government," she said.
The state-owned New Vision newspaper reports that Trade and Industry Minister Amelia Kyambadde held a six-hour meeting with the shop owners.
She relayed a message from President Yoweri Museveni, urging them to call off their protest, the newspaper reports.
But the shop owners said they would keep their businesses closed on Thursday as well.
Analysts say their protest is the latest sign of growing discontent with the government.
In April, opposition parties staged "walk-to-work" protests, complaining about the high cost of living.
Human rights groups say the security forces killed nine of the protesters.
The government accused the opposition of trying to capture power through violence after losing elections in February.