Libyan rebels 'advance on desert village of Gualish'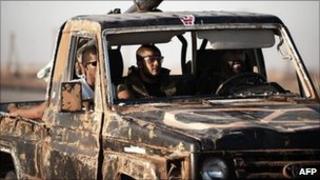 Libyan rebels have reportedly advanced on the village of Gualish, some 100km (60 miles) south-west of the capital, Tripoli.
The small desert settlement is an important step towards the larger garrison town of Garyan, which controls the main road towards the capital.
The rebels said they had captured several pro-government soldiers.
In the west of the country, rebel forces have also made some advances around the port city of Misrata.
Reports say the rebels fighting Col Muammar Gaddafi swept into Gualish on Wednesday, after a battle that lasted several hours.
Some accounts said the rebels had seized the strategically important western part of the settlement, which contains an electricity sub-station and a water tower.
At least four rebels were killed and 17 were injured, a doctor in nearby Yefren said.
'Green light'
It followed Nato air strikes on Tuesday that the alliance said had destroyed two armed vehicles and four tanks belonging to pro-Gaddafi troops.
"We waited before launching this assault and finally got the green light from Nato this morning and the offensive began," one rebel leader told AFP news agency.
Garyan is a government stronghold and a vital step for the rebels in achieving their aim of reaching the capital.
Tuesday also saw clashes around Brega in the east and the Nafusa mountains on the Tunisian border.
Rebels in the Nafusa mountains were boosted by deliveries of arms dropped by French aircraft last month.
Meanwhile, around the rebel-held western city of Misrata, rebel forces gained some ground on Tuesday and briefly managed to link up their fighters to the south and west of the city, before they had to pull back because of government firing.
The rebels say they have dug in some 7km (4 miles) west of their previous front line at Dafniya, on the city's outskirts, and are in control of an area known as Na'imah.
At least 11 people were injured in fierce fighting around Misrata on Tuesday.
But the BBC's Gabriel Gatehouse in Misrata says neither side appeared to be making significant progress.
Rebels hold much of Libya's east, plus Misrata and several towns in the Nafusa mountains near the Tunisian border.
Since anti-government protests turned into armed rebellion in February, the two sides have been locked in a stalemate, despite a Nato-led air campaign against Col Gaddafi's forces.
Nato and several Arab states mandated to defend civilians have been carrying out air strikes against military targets linked to Col Gaddafi for more than three months.
Pressure has been growing to find an end to the conflict. The rebels insist Col Gaddafi must step down.
Speaking on Wednesday, Nato Secretary General Anders Fogh Rasmussen said he had "no confirmed information that Gaddafi has sounded out the possibility to step down".
But he said it was clear that the "end state must be that he leaves power".